Programmed by Amy Kazymerchyk and Sarah Todd
Famed writer and critic Susan Sontag's third film and only documentary obliquely witnesses the final days of the 1973 Yom Kippur War in Israel. The film is a collage of observational fragments showing that something happened, but not why it happened, a strategy illustrating her conviction that "to interpret is to impoverish, to deplete the world." Sontag resisted the label documentary, instead suggesting literary analogues such as "the poem, the essay and the lamentation" to describe the film's dialectical structure. Roberto Rossellini said she uses "the Arab-Israel War as a metaphor for the human condition." Sontag continued to explore the metaphor of suffering in her writing (Illness as Metaphor, Regarding the Pain of Others). France 1974. Dir: Susan Sontag. 87 min. 16mm
Programmed by Amy Kazymerchyk
Further unfolding the cinematic grammar of her films Gonda (2012) and Medea (2013), which are exhibited in Not a curse, nor a bargain, but a hymn at Audain Gallery, this program presents five of Ursula Mayer's films produced between 2005-2010. Like a house of mirrors, Mayer's films employ cyclical pictorial structures. Within these fractured, looping, reflected circuits, she transposes figures, architectures, and aesthetic eras over each other. Influenced by the work of Alain Robbe-Grillet, Maya Deren, and Andrei Tarkovsky, Mayer composes multifaceted images that refract temporalities and subjectivities. From within their house of mirrors, the figures in Mayer's films gaze outward from the corridors of history.
PROGRAM
Trilogy: Portland Place 33 (2005), Keeling House (2006), Villa Mairea (2006), SD Digital File, 18:40min, BW/Colour 
Interiors, 2006, 16mm, 4min, BW/Colour/Sound
The Crystal Gaze, 2007, 16mm, 8min, BW/Colour/Sound
The Lunch in Fur/ Le Dejeuner en Fourrure, 2008, 16mm, 8min, Colour/Sound
Last Hours of Ancient Sunlight, 2010, SD Digital File (dual image), 7min, Colour/Sound
Christine Evans will introduce the House of Mirrors screening. Evans is a sessional instructor in Film Studies at the University of British Columbia. Her research focuses on the intersections between love, universality, Lacanian psychoanalysis and film theory.
Image: The Crystal Gaze (2007)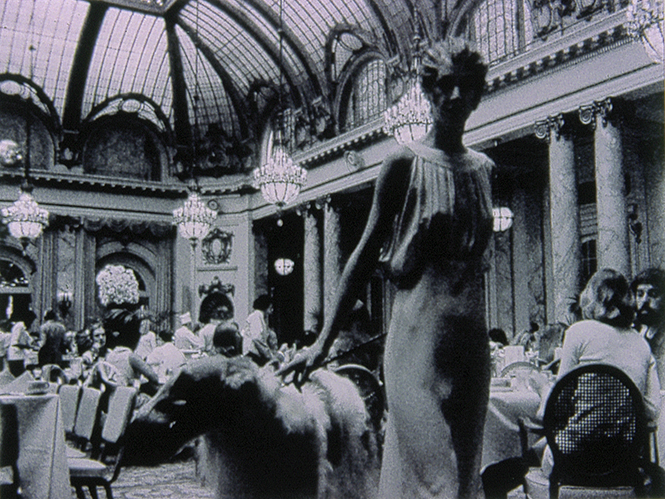 Programmed by Michèle Smith 
"Probably not since Andy Warhol's The Chelsea Girls had its first showing at the Cinematheque… almost a year and a half ago, has an 'underground' film event caused as much curiosity and interest in N.Y.'s non-underground world as did four days of showings of the complete films of Warren Sonbert at the Cinematheque's new location on Wooster St." (Roger Greenspun, film critic)
This announcement in the trade journal Variety in 1968 marked the arrival of a key innovator in experimental filmmaking. Inspired equally by Hitchcock and Sirk as by Markopoulos and Warhol, Warren Sonbert (1947-1995) had his first career retrospective before his 21st birthday. By the time of his death from HIV/AIDS, he had made eighteen films, the last completed posthumously according to his instructions. DIM Cinema presents a quartet of dazzling films by this seminal figure of the American avant-garde, beginning with a tradition-flouting student film from the mid-1960s, starring two superstars of Warhol's Factory, and followed by three powerful examples of his mature non-narrative style of "polyvalent montage"— an exuberant rapid-fire editing technique that considers the directional pulls of heterogeneous shots, and combines them along "potentially many dimensions", to create a distinctive form of lyric cinema.
PROGRAM
Hall of Mirrors | USA 1966, 16mm, colour/b&w, 7 min. 
Rude Awakening | USA 1976, 16mm, colour/b&w, silent, 36 min.
The Cup and the Lip | USA 1986, 16mm, colour, silent, 20 min.
Friendly Witness | USA 1989, 16 mm, colour/b&w, 22 min.
Image: Friendly Witness, 1989. Courtesy of Light Cone.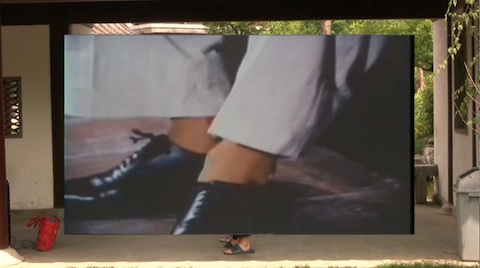 Programmed by Sarah Todd
Using E. O. Plauen's comic strip of the same name as an entry point, Vater und Sohn/Father and Son/父与子 is a video essay in which Vancouver-based artist Casey Wei combines documentary and travelogue footage with appropriated images to trace the migration of this comic strip from Nazi Germany through Maoist China to the present day. As a child growing up in Shanghai, Wei read collections of the comic and assumed it was Chinese. In 2012, she stumbled across an image of it online in German, and was shocked to discover its true origins. Wei traveled to Germany and China to conduct interviews with people who have encountered the comic strip in various contexts. The film presents the failed utopian strategies of the 20th century through the lens of this comic and provokes thoughts about memory, influence, time, and history.
Please see a trailer for Vater und Sohn/Father and Son/父与子
here.
Casey Wei (b. 1985, Shanghai) is a Vancouver-based artist working in film/video and text. In 2012, she graduated with an MFA in Interdisciplinary Arts from Simon Fraser University, where her thesis work was the video Murky Colors. Vater und Sohn/Father and Son/父与子 is her second video and her first feature-length work.
Programmed by Michèle Smith
"I thought I would try to get by on my wits creatively, whatever that meant."  - 
JEREMY DELLER
In 1986, while hanging out in Andy Warhol's Factory for a couple of weeks, a 20-year-old art history student from London had a life-changing epiphany: art could be made out of whatever you were interested in. Nearly three decades later, Jeremy Deller is arguably one of the most influential artists of his generation, celebrated as "an enabler, intermediary, collaborator and all-round enlightenment artist … whose material is drawn straight from the life around him, from people's experiences, from writing and history almost as it happens" (The Guardian). Tonight's program includes two feature-length documentaries the artist made with the filmmaker Nick Abrahams, one about a pop-culture Renaissance man, the other about Depeche Mode fans, and a short biopic of Adrian Street, a coal miner's son whose wrestling persona inspired Glam Rock and early performance art, a man Deller thinks "needs to be seen as the hero of his own life."
PROGRAM
7:30pm 
The Bruce Lacey Experience | Great Britain 2012. Dirs: Jeremy Deller, Nick Abrahams. 67 min.
9:00pm
So Many Ways to Hurt You (The Life and Times of Adrian Street) | Great Britain 2010. Dir: Jeremy Deller. 28 min.
Our Hobby is Depeche Mode | Great Britain 2008. Dirs: Jeremy Deller, Nick Abrahams. 73 min.
Jeremy Deller (b. 1966, London) studied art history at the Courtauld Institute of Art and University of Sussex. He had his first solo exhibition in his parents' house while they were away on vacation and subsequent ones in Paris, New York, Chicago, and Los Angeles. In 2012, the Hayward Gallery, London, organized a touring mid-career retrospective, Joy in People. Deller received the Turner Prize in 2004 and represented Britain at the Venice Biennale in 2013.
Nick Abrahams studied art and English literature at Exeter University and Art School. He came to filmmaking as a director of pop videos for Stereolab, Manic Street Preachers, Sigur Ros, and many others. He is currently working on his first feature.
I
mage: Adrian Street, vintage photograph, 1973, from 
So Many Ways to Hurt You
, 2010.
Programmed by Sarah Todd.
"Synthetic Properties" brings together two recent films that illustrate the simultaneous banality and wonder of contemporary image and object making technology. Helen Marten's Evian Disease exploits the medium of digital animation. Structured by six narrators floating through a modern apartment, the spectacularly artificial composition investigates the absurd materiality of digital artifice and the sanitized but seductive formal vocabulary of CGI animation. Zoe Tissandier's new work In Praise of Scribes focuses a similarly meditative gaze upon an advanced 3D printing machine. An in-depth visual analysis of the 3D printing process produces an allegory around the potentiality and complexity of the endlessly reproducible object, drawing the printing process's resultant object as both banal artifact and fetishistic talisman.
PROGRAM
Helen Marten,
Evian Disease
. 2012,  29mins. 
Animation by Adam Sinclair. Digital animation. 
Courtesy of the artist and T293 Gallery. 
Zoe Tissandier, 
In Praise of Scribes. 2013, 
HD Video, 26mins. Courtesy of the artist.
- - -
Helen Marten lives and works in London. Recent solo exhibitions includeEvian Disease, Palais de Tokyo, Paris (2012); Park Nights: Dust and Piranhas, Serpentine Gallery (2011); Take a stick and make it sharp, Johann König, Berlin (2011) and Wicked Patterns, T293, Naples (2010). Marten participated in the 2013 Venice Biennale. Recent group exhibitions include New pictures of common objects, MoMA PS1, New York (2012).
Zoe Tissandier is a visual artist from the UK, currently based in Vancouver. Her practice employs a variety of mediums including video, letterpress, projection, sound and installation. Zoe Tissandier received a BA Photography degree from the Arts Institute at Bournemouth, UK in 2002 and an MFA degree from the Department of Art History, Visual Art and Theory at the University of British Columbia in 2010.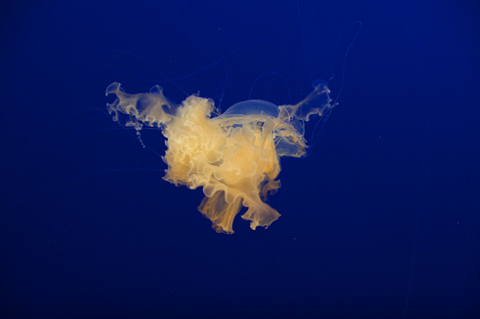 Programmed by Michèle Smith,
Aurelian Froment in attendance
To launch its 2014 season, DIM Cinema is hosting an evening of videos by the acclaimed French artist Aurélien Froment, in advance of his first Canadian solo exhibition. Froment often uses theatrical devices and the format of instructional films to draw the audience in as participants in these cleverly-crafted investigations into the transmission of ideas. Some of the videos take a specific object or practice as subject matter — a jellyfish, a boating knot, a yoga pose — and examine it through language, revealing the elusive relationship between images and words. Others follow the shifts in perspective witnessed by forgotten historical objects as their uses and meanings change over time from those envisioned by their designers. And still others are concerned with the mental processes involved in the construction of narrative and memory.
PROGRAM
Opening Speech | 2011. HD video, colour, sound. 5 mins. 
Fondation | 2002. HD video, colour, sound. 2 mins. 
The Apse, the Bell and the Antelope | 2005. HD video, colour, sound. 27 mins.
Pulmo Marina | 2010. HD video, colour, sound. 5 mins. 
Fourdrinier Machine Interlude | 2010. HD video, colour, sound. 7 mins.
Théâtre de poche | 2007. HD video, colour, sound. 12 mins.
Camillo's Idea | 2012. HD video, colour, sound. 25 mins.
Aurélien Froment (b. 1976 in Angers, France) is a visual artist based in Dublin. After graduating from École Régionale des Beaux Arts, Nantes, he worked as a part-time projectionist at MK2 Parnasse in Paris. The cinema continues to be an important space for his practice. His work has been shown internationally in solo and group exhibitions and screenings, most recently at the ICA in London, Centre Pompidou in Paris, and at the 55th Venice Biennale.
Image: Pulmo Marina (still), 2007.
Programmed by Amy Kazymerchyk

The Kidnapper's Opera is a video-artwork based on a true story: On December 21, 1990, several young men, some of them teenagers, kidnapped the daughter of Canadian billionaire Jimmy Pattison in Vancouver. After receiving a $200,000 first payment on their ransom demands, the kidnappers decided to go on a shopping spree in a rented limousine; they were caught later that day conspicuously spending large amounts of cash at local shopping malls. Inspired by a quotation from Bertolt Brecht's The Threepenny Opera – "What is the robbery of a bank compared to the founding of a bank?" – the film considers how inequality is psychologically experienced in our society. The explanation for the behaviour of the teenagers focuses on the false desires of fortune and personal grandeur created by advertising, the media, and a sense of lack perpetuated by globalization. Structured like a play, each scene of The Kidnapper's Opera is set and shot uniquely. Dan Starling, 2013, Colour, HDCAM, 90mins, Canada.

Dan Starling is a visual artist from Vancouver who works in a variety of mediums (drawing, painting, sculpture, photography, performance). Starling studied at Emily Carr University in Vancouver and Städelschule in Frankfurt and teaches at Emily Carr University.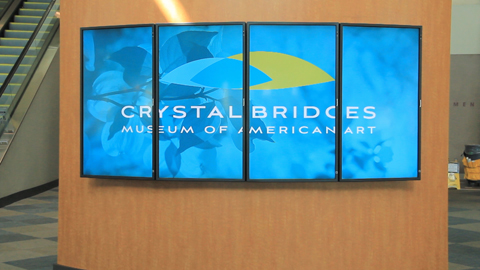 Programmed by Aaron Peck
In
My Language is an Unpaved Road (Crystal Bridges)
, the collaborative duo of Henning Fehr and Philipp Rühr documents the eponymous art museum – the Crystal Bridges Museum of American Art – opened in 2005 in Bentonville, Arkansas, by Alice Walton, heiress of the Walmart fortune. Funded by the world's largest department-store chain, Crystal Bridges exemplifies a shift in the function of museums from educational to entertainment models. The film explores not only the museum's collection, which ranges from early American colonial to contemporary art, but also the individuals around it. Co-director Fehr acts the part of the museum's director, Don Bacigalupi, while the rest of the cast are actual interviewees, including local donors and high-school teachers. As German critic Noemi Smolik writes in Frieze d/e, "The film comes across as both touchingly naïve and cunning – naïve in its direct voicing of the protagonists' stories; cunning, because of the parodic effect given to these stories by the film's imagery."
Henning Fehr, andPhilipp Rühr. 2013, 
Colour, HDCAM, 92mins, 
Germany.
Henning Fehr was born in Erlangen, Germany, in 1985. Philipp Rühr was born in Brühl, Germany, in 1986. Both currently live and work in Düsseldorf, Germany. They are represented by Galerie Max Mayer.
Programmed by Michèle Smith
A falcon equipped with a tiny camera hovers over the desert like a living drone. Auguries are taken from the flight of starlings above the roofs of the Vatican. At ground level, a magician-mime uses conjuring tricks to interpret abstract art, shepherds watch over Glenn Gould practising a Chopin étude, and a prisoner secretly records his daily life on a smuggled phone in exchange for short video clips of the world outside. This month we're mapping the conceptual terrain crossed by French artists in the past decade, from art and aesthetics to politics, philosophy, race, and citizenship. An irresistible cinematic amuse-bouche and digéstif will be served by Laure Prouvost, whose recent video installation Wantee, about the artistic friendship between her late (entirely fictional) grandfather and the Dadaist Kurt Schwitters, earned her a nomination for this year's Turner Prize — winner to be announced in early December (Go Laure!).
PROGRAM
Owt | Laure Prouvost/Great Britain 2007. 3 mins. 
Abstract Telling | Olivier Dollinger/France 2010. 16 mins. 
Le Berger | Benoît Maire/France 2011. 15 mins. 
Temps Mort | Mohamed Bourouissa/ France 2009. 18 mins. 
Pruitt Igoe Falls | Cyprien Gaillard/France 2009. 7 mins.
Les Oiseaux | Laurent Grasso/ France 2008. 9 mins. 
A Study of the Nature of Things | Laurent Montaron/France 2011. 12 mins. 
On Air | Laurent Grasso/ France 2009. 9 mins. 
Wantee | Laure Prouvost/Great Britain 2013. 15 mins. 
 
Image: On Air (still), 2009. Courtesy Galerie Valentin, Paris, and Sean Kelly Gallery, New York © Laurent Grasso / ADAGP, Paris, 2013.
Pages