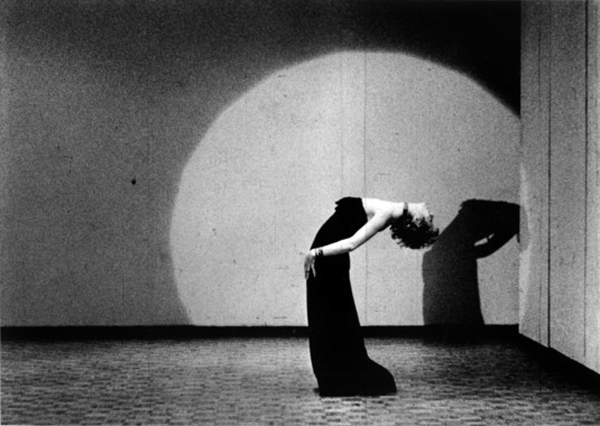 Programmed by 
Michèle Smith
The first feature by legendary choreographer Yvonne Rainer, soon to become a prominent independent filmmaker, observes a love triangle between three dancers from various points of view. This genre-defying but now classic experimental film was shot by Babette Mangolte (whose work is featured in September's DIM Cinema program) and uses various stylistic devices — rehearsal vs performance, fiction vs nonfiction, dialogue vs intertitles, objective vs subjective descriptions, diegetic vs non-diegetic sound — to document, in the director's words, "the spectacle of a group of people intensely involved in a kind of work, in the task of performing." Watch for the final sequence, which recapitulates the Louise Brooks vehicle Pandora's Box (1929) in a series of tableaux vivants. 16mm print.
Lives of Performers. USA 1972. Dir: Yvonne Rainer. 90 min. 16mm
Image: Film still copyright Yvonne Rainer.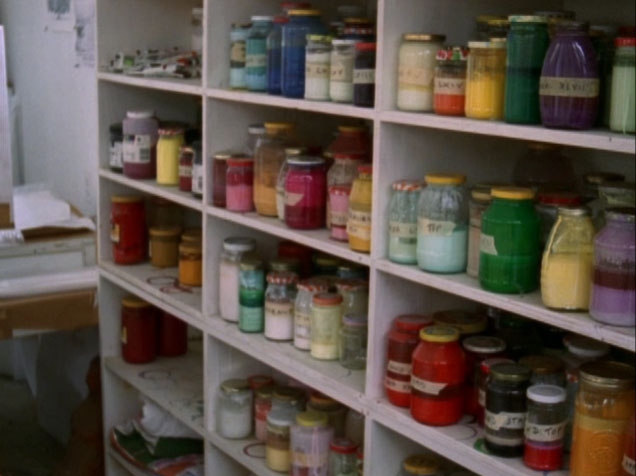 Programmed by Michèle Smith
This month DIM Cinema has arranged a series of studio visits, beginning with Jem Cohen's short portrait of the sculptor Ann Truitt (1921-2004) and ending with the ceremonial liberation of Jay DeFeo's painting The White Rose, weighing over 2,300 pounds, from her second-floor studio in San Francisco. In between, and in their respective studios, Sarah Pucill plays with the blinds, Bruce Nauman walks in an exaggerated manner, and Ken Jacobs goes psychedelicological. The evening ends with a story told by Babette Mangolte about two artists and one studio. In the 1960s, Henryk Stażewski invited Edward Krasiński to share a space in Warsaw; after Stażewski's death, Krasiński created an installation in situ as a shrine to his friend.
Ann Truitt, Working | Jem Cohen/USA 2009. 13 min.
Blind Light | Sarah Pucill/Great Britain 2007. 22 min.
A Loft | Ken Jacobs/USA 2010. Silent. 17 min.
Walking in an Exaggerated Manner Around the Perimeter of a Square | Bruce Nauman/USA 1968. Silent. 10 min.
Edward Krasiński's Studio | Babette Mangolte/Poland-USA 2012. 30 min.
The White Rose | Bruce Conner/USA 1967. 7 min.
Image: Still from Ann Truitt, Working, 2009, by Jem Cohen. Copyright of the artist, courtesy of Video Data Bank, www.vdb.org, School of the Art Institute of Chicago
Programmed by Michèle Smith
"One of the few GREAT films of all cinema." Stan Brakhage

FREE SCREENING! A native of London, Ontario, Jack Chambers (1931-1978) was already renowned as a painter before he ventured into filmmaking. He completed six films; the last was his masterpiece, The Hart of London, begun the year he was diagnosed with leukemia. This feature-length experiment in "perceptual realism" combines newsreels, found photography, and original footage. "It's a film of startling juxtapositions that seems to be speaking to elemental issues of life and death, yet it also manages to interweave five or six grand themes and let the viewer feel that they are logically interrelated" (Fred Camper, Chicago Reader). Chief among them is our alienation from nature, evoked in the opening footage of the capture and killing of a deer that has wandered into London, and reprised in every major scene thereafter as one of the costs of civilization.

The Hart of London Canada 1970. Dir: Jack Chambers. 79 min. 16mm
Image: Courtesy of CFMDC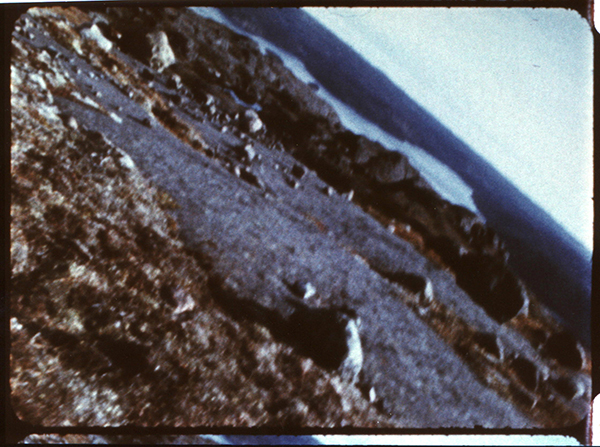 Programmed by Michèle Smith
FREE SCREENING!  In Michael Snow's tenth film, made in the twilight of the American lunar missions, the camera, attached to a robotic arm, casts its roving 360-degree eye across a remote, seemingly otherworldly mountaintop in northern Quebec. To a soundtrack based on the waves and pulses of the camera-activating machine, La Région centrale "transports its audience to a rugged Canadian landscape that is discovered at noon and then explored in seventeen episodes of dizzying motion as the machine's shadow lengthens, night falls, and light returns" (Martha Langford, Art Canada Institute). Snow's film is preceded by Daïchi Saïto's kaleidoscopic exploration of the patterns and contrasts in the landscape of a Montreal park.
"Michael Snow catapults us into the heart of a world before speech, before arbitrarily composed meaning, even subject. He forces us to rethink not only cinema but our universe."
— Louis Marcorelles, Le Monde, on La Région centrale
"The overall effect is of when you tightly shut your eyes after staring at a forest on a sunny day, leaving the intense rhythmic, bodily pulsing bleed of positive and negative, light and dark, bare, soft shadows and overwhelming color printed on the backs of your eyelids."
— Daniel Kasman, MUBI Notebook, on Trees of Syntax, Leaves of Axis
Trees of Syntax, Leaves of Axis | Daïchi Saïto/2009, 10 min. 35mm
La région centrale | Michael Snow/1971. 180 min. 16mm
Image: Still from La Région centrale, 1971, copyright Michael Snow, courtesy of CFMDC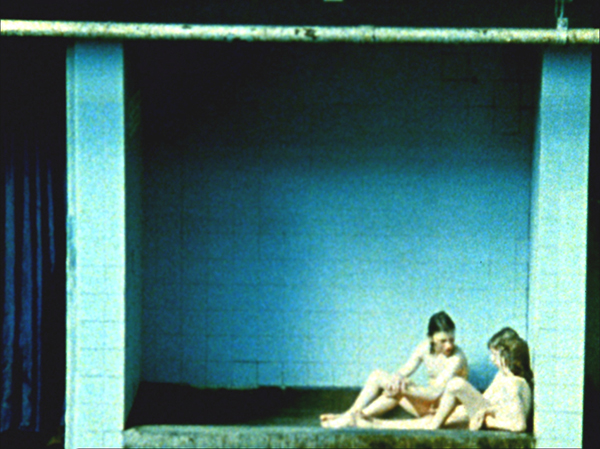 Programmed by Michèle Smith
FREE SCREENING DIM Cinema presents a free screening pairing two canonic works of Canadian experimental film: Michael Snow's single-take across a New York loft, perhaps "the most consequential zoom shot in the history of cinema" (Jonathan Rosenbaum, Monthly Film Bulletin), and Alberta-born, B.C.-based filmmaker Ellie Epp's 12-shot study of a soon-to-be-demolished public bath in London, which "maps another way out of structural film toward a cinema of delicate implication" (Bart Testa, Canadian Encyclopedia).
"If a room could speak about itself this would be the way it would go."
— Manny Farber on Wavelength
"In a lovely, non-dogmatic way, we are introduced again to the wonders of watching cinema, not just through an assertion of the beautiful image, but also through an exploration of the image's constituent elements."
— Chris Kennedy on Trapline
Wavelength | Michael Snow/1967. 45 min. 16mm
Trapline | Ellie Epp/1976. 18 min. 16mm
Image: Still from Trapline. Courtesy of Ellie Epp, CFMDC and the West Coast Film Archive.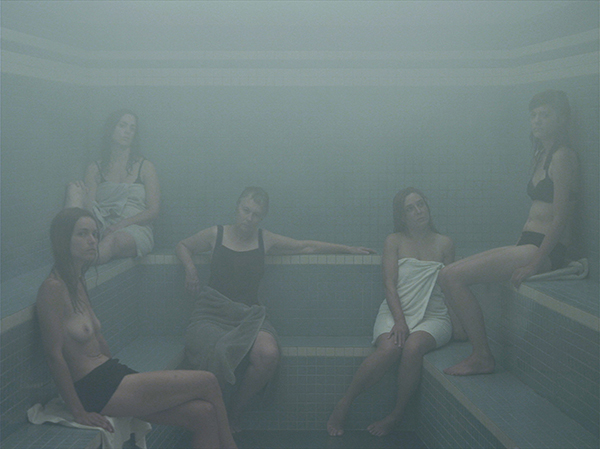 Programmed by Isabelle Lynch and Sophie Lynch

Olivia Boudreau's videos, films, and performance works inspire reflections on the experience of time and the act of perception. The Montreal-based artist carefully choreographs precise shots of long duration in works such as L'étuve (2011), where a group of women appear and disappear as dense vaporous clouds slowly fill a steam room. Her more recent works, including Femme allongée (2014), make use of narrative structure and editing. A woman draped in a white sheet lies immobile on a table. Like a body prepared for dissection in an anatomical theatre, she becomes the focal point for a sequence of activities. Through exchanged glances and small gestures, Boudreau's works invite us to rest in the intervals between stillness and movement.
L'étuve | 2011. 20 min.
Les petits | 2010. 13 min.
La Brèche | 2012, 3 min.
Le Bain | 2010, 23 min.
Femme allongée | 2014. 14 min.
- - - - - - - - - - - - - - - - - -
Olivia Boudreau's practice combines video and performance in works that explore perception, temporality, and the visible through the long take and, more recently, narrative structure and editing. Her work has been exhibited across North America and Europe, including at the Musée d'art contemporain de Montréal, Contemporary Art Gallery in Vancouver, and Le Fresnoy in France, and in 2014 was the subject of a major solo exhibition at the Leonard and Bina Ellen Gallery in Montreal. She is a three-time long-list nominee for the Sobey Art Award and received Montreal's Prix Pierre-Ayot in 2011.

Image: Still from L'étuve, 2011, copyright Olivia Boudreau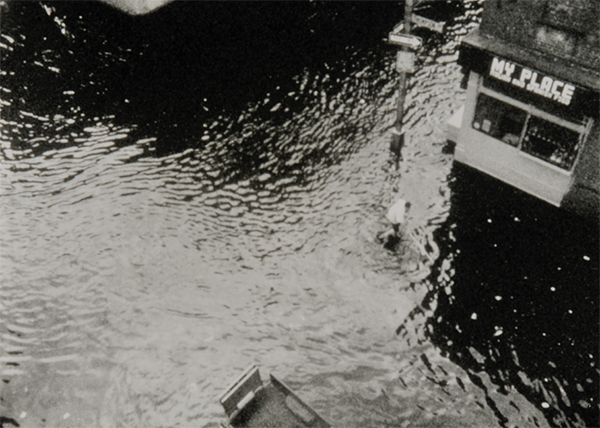 Programmed by Michèle Smith
DIM Cinema pays tribute to Peter Hutton, the influential American filmmaker and educator (Ken Burns and Kelly Reichardt were among his students) who died last June. Cahiers du cinéma described his body of work as radical and singular: "A sort of primitive documentary, silent, which celebrates the beauty of the world without forgetting to observe people, the conditions they live and work under."
Screening format: 16mm, silent.
APRIL 5: "Near"
"Hutton's black-and-white haikus are an exquisite distillation of the cinematic eye. The limitations imposed — no colour, no sound, no movement (except from a vehicle not directly propelled by the filmmaker), no direct cuts since the images are born and die in black — ironically entail an ultimate freedom of the imagination ... If pleasure can disturb, Hutton's ploys emerge in full focus. These materializing then evaporating images don't ignite, but conjure strains of fleeting panoramas of detached bemusement. More than mere photography, Hutton's contained-with-in-the-frame juxtapositions are filmic explorations of the benign and the tragic" (Warren Sonbert).
Boston Fire | 1979. 8 min.
New York Near Sleep for Saskia | 1972. 10 min.
New York Portrait, Chapter II | 1981. 16 min.
New York Portrait, Chapter III | 1990. 16 min.
Landscape (for Manon) | 1987. 12 min.
APRIL 26: "Far"
"Hit with a heavy case of wanderlust" as a young man, Hutton spent 15 years as a merchant marine, and from then on was rarely without his 16mm camera. His gorgeously textured depictions of cities and landscapes are, in his words, "diaristic without being autobiographical," using long takes and silence to encourage the mind to roam. Whether near to home or far away, "Hutton handled his camera like a curious outsider, lingering on the flow of water or the movement of clouds, taking in people in brief, penetrating but oddly distant portraits, not staying in any one place too long" (Max Nelson, Film Comment).
Florence | 1975. 7 min.
  Images of Asian Music (A Diary from Life)   1973-74 | 1974. 10 min.
Lødz Symphony | 1993. 20 min.
Skagafjordur | 2004. 33 min.
Image: still from New York Portrait, Chapter II, 1981
Programmed by Michèle Smith
Filmed in the episodic style of a sci-fi miniseries, 
The Common Sense
revolves around the Patch, a "neurological entertainment device" that allows people to feel one another's embodied experience, physical sensations, and emotions. When the Patch's network suddenly breaks down and has to be rebooted, the world is changed, splitting into two parallel realities: one where wide-scale political disruptions have broken out; the other where life continues as it was before.
Melanie Gilligan is a Canadian artist based in London and New York who uses speculative and dystopian narratives to explore contemporary issues. We are delighted to premiere this new version of The Common Sense specially made for a cinema audience.
The Common Sense
| 
Great Britain
2014.
Dir: Melanie Gilligan. 90 min. DCP
Image: Copyright Melanie Gilligan. Courtesy of the artist and Max Mayer Gallery, Düsseldorf.
_______________
Melanie Gilligan is included in the exhibition To Refuse/To Wait/To Sleep at the Morris and Helen Belkin Gallery, UBC, January 13 - April 9.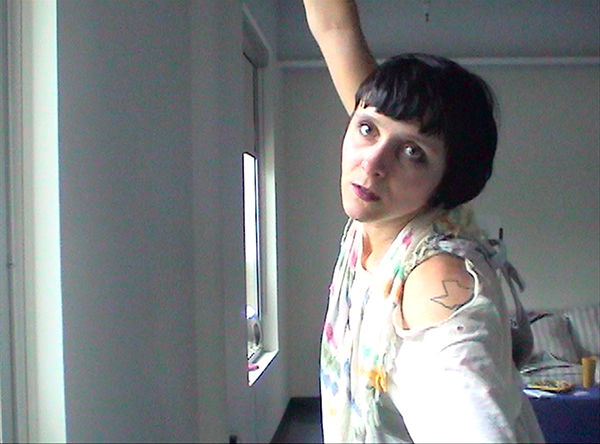 Programmed by Tobin Gibson and Kara Hansen
ARTIST K8 HARDY IN ATTENDANCE. 
"In 2001, I set out on the structuralist journey that has become my first feature film, Outfitumentary. I named the project at the outset, and considered it a document for posterity, an important record of the dress codes of a radical lesbian underground. The formal rules I imposed were simple: to roll my video camera and capture a shot of myself from head to toe with a turn to provide front and back. Ultimately, I played fast and loose with my own rules, but stayed true to my original intentions" (© K8 Hardy, NY, 2016).
Outfitumentary | USA 2016. Dir: K8 Hardy. 82 min. DCP
"In 2001, I set out on the structuralist journey that has become my first feature film, Outfitumentary. I named the project at the outset, and considered it a document for posterity, an important record of the dress codes of a radical lesbian underground. The formal rules I imposed were simple: to roll my video camera and capture a shot of myself from head to toe with a turn to provide front and back. Ultimately, I played fast and loose with my own rules, but stayed true to my original intentions" (© K8 Hardy, NY, 2016).
K8 Hardy (b. 1977, Fort Worth, Texas) is an artist and filmmaker based in New York. Her performances, photographs, self-distributed zines, videos (including music videos for Le Tigre, Lesbians on Ecstasy and Men) and films have been exhibited at venues including the Whitney Museum of American Art/Whitney Biennial 2012; MoMA PS1, NY; Dallas Contemporary, Dallas, Texas; The Tate Modern, London; Reena Spaulings Fine Art, NYC; Künstlerhaus, Halle für Kunst und Medien in Graz, Austria. 
Outfitumentary is her first feature film.
Presented in collaboration with the Contemporary Art Society Vancouver, Emily Carr University of Art + Design, Cineworks, and Queer Arts Festival.
K8 will speak about the film at an event the following evening, 26 January, starting at 7 PM at ECUAD. 
Image: © K8 Hardy; courtesy of the artist; Hardy Studio; Picture Palace Pictures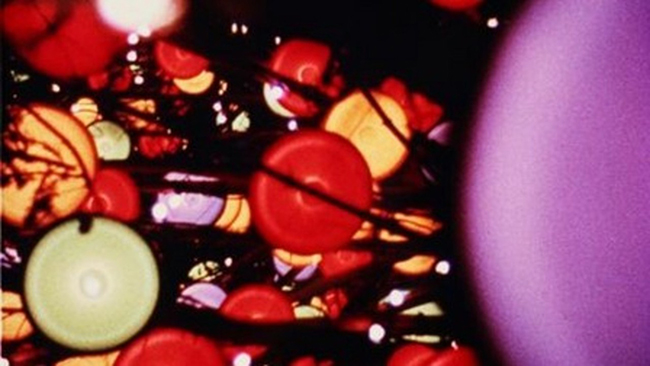 Programmed by Michèle Smith
"Marie it was who first of all of us discovered that hypnagogic envisioning need not only be done at night." STAN BRAKHAGE
The influence of Marie Menken on American experimental filmmaking cannot be overstated. Stan Brakhage, Jonas Mekas, Andy Warhol, Kenneth Anger — all these better known names owe much of their development as filmmakers to her. Trained as a painter, she manipulated her Bolex camera like a set of brushes and palette knives. The films in this program, several of them tributes to other artists, are bold experiments with light and motion. Beyond the pyrotechnics of camerawork and editing, what inspires is the bodily connection to subject matter, clasped intimately like a partner in dance.
Visual Variations on Noguchi | 1945. 4 min.
Mood Mondrian | 1961-62. Silent. 6 min. 
Eye Music in Red Major | 1961. Silent. 6 min. 
Glimpse of the Garden | 1957. 5 min. 
Bagatelle for Willard Maas | 1958-1961. 6 min. 
Hurry! Hurry! | 1957. 3 min. 
Go! Go! Go! | 1962-64. Silent. 12 min. 
Arabesque for Kenneth Anger | 1958-1961. 4 min. 
Andy Warhol | 1964-65. Silent. 20 min.
Screening format: 16mm 
Running time: approx. 66 min.
Image: still from Eye Music in Red Major, 1961
Pages