Programmed by Amy Kazymerchyk
"The Time We Killed portrays the inner life of a writer unable to leave her Brooklyn apartment on the brink of the U.S. invasion of Iraq. Robyn Taylor tries to kick her growing agoraphobia by re-imagining her past and contemplating world events of the present. As Robyn begins to overcome the amnesia that afflicted her as an adolescent, she fears coming down with 'the amnesia of the American people'... The talking cure of psychoanalysis is evoked as Robyn voices her personal history, fantasies, and observations with a wry sense of humor. As Robyn recounts her jump from a bridge, which left her with amnesia at the age of 17, she muses, 'The bridge wasn't high enough.' Recollections of her days in a mental institution seem to predetermine her present-day compulsion to lock herself indoors. And as Robyn becomes increasingly disconnected from the world, flashbacks of her childhood visit her for the first time. Finally, the horror of the U.S. military 'shock and awe' campaign brings to light the terrible cost of self-absorption and passivity, and shakes Robyn out of her self-made isolation". International Critics' Prize, Berlin (Forum of New Cinema), 2004. B&W, 16mm. 94mins, USA. 
Cast: Lisa Jarnot, Valeska Peschke, Rainer Dragon, Susan Arthur, Jennifer Reeves
Jennifer Reeves is a New York-based filmmaker who has been making experimental films since 1990. Her personal, subjective films employ optical-printing and direct-on-film techniques and explore, from many different angles, themes of memory, mental health and recovery, feminism and sexuality, landscape, wildlife, and politics.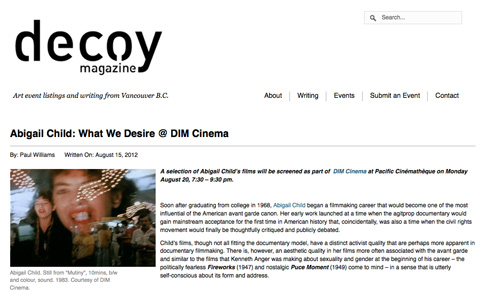 Abigail Child: What We Desire
By Paul Williams
http://decoymagazine.ca/abigail-child-what-we-desire/
Soon after graduating from college in 1968, Abigail Child began a filmmaking career that would become one of the most influential of the American avant garde canon. Her early work launched at a time when the agitprop documentary would gain mainstream acceptance for the first time in American history that, coincidentally, was also a time when the civil rights movement would finally be thoughtfully critiqued and publicly debated.
Child's films, though not all fitting the documentary model, have a distinct activist quality that are perhaps more apparent in documentary filmmaking. There is, however, an aesthetic quality in her films more often associated with the avant garde and similar to the films that Kenneth Anger was making about sexuality and gender at the beginning of his career – the politically fearless Fireworks (1947) and nostalgic Puce Moment (1949) come to mind – in a sense that is utterly self-conscious about its form and address.
Mutiny (1983) is, in a combative way,  full of fun and could be misread by some viewers who don't like to be put on the defensive. It is the second part of Child's Is This What You Were Born For? series about the experiences of women in New York City, and is comprised mostly of footage shot by Child – the dancer Sally Silvers, the violin player Polly Bradfield are all contemporary artists and friends, shot in 1981-83 on streets and offices in NYC. There is other material taken from early documentaries including the high school girls and Bronx street gang [for commissioned docs Between Times (PBS) and Savage Streets (NBC) respectively] as well as from her early doc Game (1972), shot with Jon Child. Using a 16mm camera that records on magnetic track, the film employs lightning fast editing to imitate and then deform modern representations of femininity at home, at work and in public. The active viewer who can see the pattern eventually realizes that these intercutting scenes depict many of the women in mid-cheer: chattering, singing, jumping on gymnastic apparatus, even dancing. Most are aware of the camera and some aren't, or at least aren't bothered by it. Conversations rise and fall; shots are fed through upside down and run in reverse, while one woman does an interpretive dance in the middle of a busy workday in an urban office, another drunkenly confides to us and to Abigail Child, and, in a way, to the other subjects in the film.  Not one scene is ever made clear; no utterance makes sense, a babbling crescendo. But it is in the film's kinetic nature, and in the true Eisensteinian sense of montage, that the meaning becomes apparent when all the disparate sequences are cut together, compared and seen as a whole. Ultimately, a general discontentment is sensed in the growing action with the same feel and style as Arthur Lipsett's classic Very Nice, Very Nice (1961).  But Lipsett was a lot more hip.
B/Side (1996) is more morose. The kinetic editing that underlines our understanding of Mutiny, here is deliberately paced at a speed better suited for attention to composition and character though with a similar sporadic rhythm. The film's centerpiece is a shantytown close to the heart of the city's financial centre that houses a small group of homeless men and women. Child has created a protagonist of sorts, played by New York actress Sheila Dabney. There is an insensate quality to her daily routine; we watch her sleep, wake, and wash – ironically evoking the sleepy, pastoral mornings of Humphrey Jenning's poetic, nationalist masterpiece London Can Take It  (1940) – before she begins her wanderings along Manhattan's Lower East Side. These are jarringly intercut with a love scene between Dabney and a young woman. Like a silent melodrama, her interior mindset – fantasies and all – are shot and presented for audience scrutiny. This blend of documentary and narrative address offers a complicated depiction of class, racial relations, economics and the sadness at the heart of the growing alienation of the homeless and working poor in contemporary America.
In the 21st century, her films to continue to investigate the everyday drama of contemporary America by looking into the past, primarily with found footage. She has become a sought after world-class installation artist, creating split-screen, didactic meta-narratives at galleries around the world.
The above reviewed films, along with The Game (1972), are part of the upcoming  Abigail Child presentation at DIM Cinema. DIM Cinema is a continuing series of avant garde works by important domestic and international filmmakers; the program is curated by Amy Kazymerchyk and screened monthly at the Pacific Cinémathèque in Vancouver, Canada.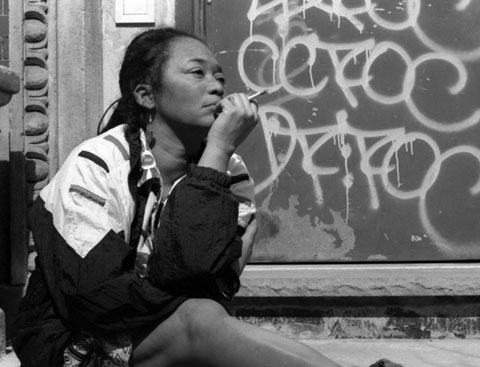 Programmed by Amy Kazymerchyk
In her vast and compelling oeuvre, media artist and poet Abigail Child's created three unique films that speak to women's political, sexual, and economic experiences on the streets of New York. Mutiny (1983) is a panoply of expression and gesture. It's a collage of women: at home, on the street, at the workplace, and at school — talking, singing, dancing, and playing the violin. Mutiny belongs to a series of montage films, entitled "Is this is what you were born for?", in which Child conducts an archaeological dig through the miasma of images and expectations we are born into. In Game (1972), an intimate portrait of a couple, Child's compassion, generosity, and fearlessness nurture a complex conversation on civil rights, sexual politics, prison justice, love, and economics that reveals the real game within American culture. B/side (1996) is a poetic rumination on urban homelessness. Framed by footage of the encampment locally known as Dinkinsville on New York's Lower East Side, B/side is composed of sensitive vérité footage of the site's external conditions and intimate vignettes of women's interior fantasies.

Abigail Child is a media artist and writer whose original montage pushes the envelope of sound-image relations. Her work in the 1980s explored gender and strategies for rewriting narrative. In the 1990s she recuperated documentary to poetically explore public space. In the 21st century, her films investigate the awkward drama of everyday, often utilizing archival material to examine the past. Child has also turned her vertical montage to installation, creating prismatic and interruptive multiple screen narratives at galleries across the world. Harvard has created an Abigail Child Collection dedicated to preserving and exhibiting her work.
PROGRAM
Mutiny. 1983, Colour and B&W, 16mm. 10mins. 

Game. 1972, B&W, 16mm. 40mins. 

B/side. 1996, Colour and B&W, 16mm. 40mins.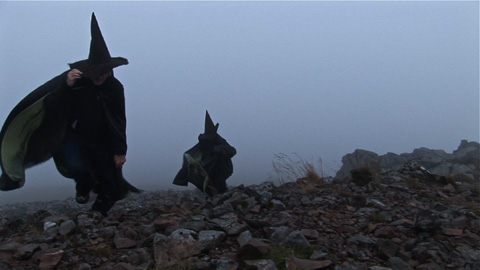 Programmed by Heidi Nagtegaal
MASH//UP is a look at the last 15 years of video art produced by FASTWURMS, the trademark and shared authorship of Canadian artists Dai Skuse and Kim Kozzi. Since 1979, the multidisciplinary artists have worked with media, social, and material art forms in a practice that melds high and popular cultures, bent identity politics, social exchange, and do-it-yourself sensibility.
FASTWURMS practice looks closely at the things we cannot see — or refuse to see. FASTWURMS creates a panoply of camp performance, costumes, ceremony, Wiccan ritual, collage, installation, cats, dance music, and cheap video production to make visible commonly held taboos around sexuality, desire, cosmology, nature, power, and the occult.
FASTWURMS uses video to create art as well as document their lives as activist-artist-witch-educators. They extend authentic ardour and radical generosity to working class, queer, unschooled, de-schooled, and over-schooled communities. They have dedicated over 25 years to co-authored, activist art making — an example of life as practice.
Dai Skuse and Kim Kozzi, aka FASTWURMS, also teach in the sculpture department at the School of Fine Art and Music at the University of Guelph. Recent exhibitions include solo shows at the Contemporary Art Gallery, Vancouver, Plug In ICA, Winnipeg; and the Art Gallery of York University, Toronto. Group shows include Anthem: Perspectives on Home and Native Land, MSVU Art Gallery, Halifax, and The Banff Centre Walter Phillips Gallery, Banff; São Paulo Biennial, Brazil; and Sequences Festival, Reykjavik, Iceland.
PROGRAM
Vulcano!. 1987, 16mm, 9mins. 

Push It Good (Part 1). 2003, DV, 3mins.
Denim Pox. 2002, DV, 5mins. 

Telepathacats. 2003, DV, 12mins.
Push It Good (Part 2). 2003, DV, 3mins.

Into Trees. 2003, DV, 2mins. 

Pussy Necropolis. 2004, DV, 19:30mins.
Push It Good (Part 3). 2003, DV, 3mins. 

Blood Clock. 2005, DV, 12mins.
W.A.D.D. 2003, DV, 2mins. 

 
Programmed by Allison Collins
"Narrative represents real or imaginary events in time. As with a landscape painting, a narrative film seems to offer an experience that stands in for—pretends to be—creates an illusion of—something taking place before us. In order for it to work, we must enter into the illusion, suppress our awareness of presence and treat illusion as a present reality." MALCOLM LA GRICE
Can we define time-structures for cinema and particularly expanded cinema that go beyond narrative? Or if not beyond it: around, underneath, across? The works in "Movable Facture: Time Frames" are drawn from an earlier moment in film's history, when a preoccupation with structure was attended to through a variety of formal experiments and strategies that skirt or avoid narrative immersion. The selection is drawn from classic structural films such as Hollis Frampton's Nostalgia, and little-seen local gems found in Pacific Cinémathèque's West Coast Film Archive.
These experimental works are present as film, despite cinema's potential to bring us toward something else. Eschewing story, they are more closely related through formal features that attempt to draw a viewer toward an unauthorized experience. While we might invest a psychological experience in a representation, we may also spend time with cinema's problems. Flat fields of movement and sound can offer coherence, but it is not a coherence that belongs with the spectator.
PROGRAM
Tony Conrad, The Flicker. 1966, 16mm, 30mins, USA.
Beverly Conrad, Straight and Narrow. 1970, 16mm, 10mins. USA. 
Keith Rodan, Cinetude 2. 1969, 16mm, 5mins. Canada.
David Rimmer, Variations on a Cellophane Wrapper. 1970, 16mm, 8mins, USA.

Paul Sharits, T.O.U.C.H.I.N.G. 1969, 16mm, 12mins, USA.
Hollis Frampton, "Hapax Legomena I" (nostalgia). 1971, 16mm, 39mins, USA.
"Time Frames" accompanies the exhibition
"Movable Facture"
, featuring the work of Amy Granat and Drew Heitzler, Isabelle Pauwels, Benjamin Tiven, and Jennifer West, at VIVO Media Arts Centre, June 1-23, 2012. 
Flicker, Straigh and Narrow,
.
T.O.U.C.H.I.N.G., and "Hapax Legomena I" (nostalgia)
courtesy
The Filmmakers Coop
. 
Image: .
T.O.U.C.H.I.N.G. (1969) by Paul Sharits
Programmed by Amy Kazymerchyk

"Its beauty is quite ineffable. It's the sort of visual experience that transforms everything seen by the viewer for several hours afterward ... What it actually does is capture the subconscious of the city itself, the dream state of the whole past existing in simultaneous disarray." 
LUC SANTE, LOW LIFE AND EVIDENCE
Following DIM's presentation of his feature-length Benjamin Smoke in March, "New York" highlights Jem Cohen's 20-year practice of picturing New York City. Cohen constructs his city portraits as a witness and collector, compiling film reels and audio recordings that develop into compositions over time. Cohen focuses his camera on the liminal spaces of the city and the people who live and work on the margins. In Lost Book Found Cohen reflects, "I became invisible, and then I began to see things that had once been invisible to me." 
"New York" begins with Cohen's 1988 film, This is a History of New York, which borrows the narrative of monumental epochs to frame fragments of industrial decay and vagrant life along the Hudson River. A decade later,  Lost Book Found (1996) follows listings of places, objects, and incidents from a found notebook to decode the city's confessions. Little Flags (2000) and NYC Weights and Measures (2006) straddle 9/11, portraying the aura of publicness and pride in the financial district, before and after the event. In Long For the City (2008) Cohen pictures New York through Patti Smith's reflections on her forty-year history under its sky. Cohen's most recent production, a series of nine newsreels from Occupy Wall Street affirms his practice as flaneur and verite historian.
PROGRAM
This is a History of New York. 
1988, 16mm, 23mins.
Lost Book Found. 1996, 16mm, 37 mins. 

Little Flags. 2000, 16mm, 6mins.
NYC Weights and Measures. 2006, 16mm, 6mins.

Long for the City. 2008, 16mm, 10 mins.
Night Scene New York. 2009, 16mm, 10mins.
Gravity Hill Newsreels: Occupy Wall Street #03. 2011, HD, 5mins.
Programmed by Amy Kazymerchyk
Recently preserved by the Museum of Modern Art and The Pace Gallery in New York, Gabriel is the only completed film by the painter Agnes Martin (1912-2004), a leading figure in American abstract art. (Martin was born in Saskatchewan and raised in Vancouver). "Gabriel [is] a historically unique work that both illuminates and complicates our understanding of the artist and her paintings. 'My movie is about happiness, innocence, and beauty,' Martin observed. 'It's about this little boy who climbs a mountain and all the beautiful things he sees.' To those familiar with the luminous, tactile, exacting geometries of her paintings, Gabriel's elusive style and structure may come as a surprise: the lack of logical continuity; the point of view that shifts between that of the boy and an unseen observer; the handheld camera that is rarely at rest, but instead feels its way across the landscape, meandering and contemplating. Whatever tension exists in Gabriel comes from transition, variation, and difference: between shore and land, snow and desert, silence and Bach, solidity and movement, abstraction and nature" (MOMA). 78 mins, 1976, Colour, 16mm transferred to DVD, USA.  Courtesy of The Pace Gallery.
"Agnes Martin was born in Macklin, Saskatchewan in 1912 and grew up in Vancouver. She moved to the USA in 1932, taking American citizenship in 1940. Martin held her first one-woman exhibition at the Betty Parsons Gallery in New York in 1958. She constructed her paintings on a rational grid system, superimposing a network of pencilled lines and later coloured bands on fine-grained canvas stained with washes of colour. These paintings were influential on the development of Minimalism in the USA, although Martin regarded her use of grids as a development from the 'all-over' compositional methods of Abstract Expressionism. She persistently rejected the suggestion that her paintings were conceived in response to the landscape of New Mexico, where she settled again in 1967 and where she chose to work most of her life" (Oxford University Press).
Programmed by Amy Kazymerchyk
Lit by the glow of a bubbling fish tank diffused by a taffeta shawl, Benjamin Smoke lounges on a stack of pillows and asks, "What happens when you make music that gets you off like drugs, sex, or god? You tell me— what is it about having a great orgasm that's so good...?" Benjamin (1960-1999) was a member of Atlanta's underground and experimental music scenes in the 1980s, including the Opal Foxx Quartet. His yearning to write original music lead to the formation of Smoke, a band admired by the likes of Michael Stipe, Chan Marshall, and Patti Smith (who appears in the film). For 10 years, filmmakers Jem Cohen and Peter Sillen filmed Benjamin at his home in Atlanta's Cabbagetown neighbourhood, opening a window onto his life with drugs, music, AIDS, queer drag, and his mother. Benjamin Smoke explores the life of a true American rebel in a little known, rapidly disappearing pocket of the U.S. South. "In the straw coloured light, in light rapidly changing, on a life rapidly fading; have you seen death singing, have you seen death singing, have you seen death singing?" (Patti Smith). "A haunting portrait of a lyricist-singer who is the very embodiment of the famous observation that burning the candle at both ends produces such a lovely light" (Kevin Thomas, Los Angeles Times). 72 mins, 16mm, B&W and colour, 2000, USA
With: Benjamin Smoke, Patti Smith, Tim Campion, Brian Halloran, Coleman Lewis, Bill Taft
Programmed by Laura U. Marks
This year the Damascus-based Syrian documentary festival DOX BOX has decided not to hold the festival or seek government permits, as a statement against the regime. Instead, Dox Box is circulating films on "DOX BOX Global Day," to engage audiences worldwide with the complex situation in Syria. This program includes rarely seen masterpieces such as Omar Amiralay's A Flood in Baath Country, Nidal Al Dibs's Black Stone, and Oussama Mohamed's Step by Step, as well as works by emerging filmmakers. While world attention is on Syria, these films helps audiences share the experiences of Syrian people and learn about the country's political, economic and social climates over recent decades. They also express the critical and creative agency of Syrian filmmakers through each film's particular style and sensibility, poetic or acerbic, sharp or tender. These are not only political and social witnesses but rare works of cinema.
PROGRAM
March 14, 7pm, SFU Mowafaghian World Art Centre
Meyar al Roumi, Six Ordinary Stories. 2007, 61min.
Reem Ali, Foam. 2006, 48min.
March 15, SFU Room 4955
6pm Omar Amiralay, Daily Life of a Syrian Village. 1974, 85min.
8pm Oussama Mohammed, Step by Step. 1978, 22min.
        Rami Farah, Silence. 2006, 37min.
March 16, 7pm, SFU, Mowafaghian Cinema
Omar Amiralay, A Flood in Baath Country. 2003, 46min.
Nidal al Dibs, Black Stone. 2006, 62min.
Supported by: School for the Contemporary Arts, Simon Fraser University Centre for the Comparative Study of Muslim Societies and Cultures, SFU Wild Rice, DIM Cinema, Doxa Documentary Film Festival and Reel Causes.
Programmed by Amy Kazymerchyk
The gestures in John Price's films — a hazy body in the throes of a ragged dance, a child nestled in a blanket on a beach rock, or a woman in a brown trench coat and high heals tweaking out — are not for us. They have no message, no promise, and no delivery. They are the impressions of a man watching his life closely and intuitively; following each moment with a flickering shutter. Alone in the darkroom with cheap expired reels and industry tail ends, Price mixes chance with chemistry to work out the tones, tints, and grain. The images may fall off altogether, but he doesn't care. The intimacy of the alchemical process will remain and he will remember it. The films presented in "Film Diary" touch central themes in Price's archive: The City, The Family and The Sea. After Eden (2000) and Nine + 20 (2001)  are part urban ethnography and part excavation: the journey of a traveler in search of faith amidst a landscape of concrete and lost souls. Ten Thousand Dreams (2004) marks the birth of Price's first child and his shift to witnessing the the city and the landscape through his children's eyes. Selections from his Sea Series #1- 10 (2008-2011) map Price's children locating their footing along the shores, spits, and bays of the Great Lakes chain.
PROGRAM
Nine+20, 16mm, 10min, 2001.
After Eden, 16mm, 30min, 2000.
Ten Thousand Dreams, 35mm,  6min, 2004.
Sea Series #5 Georgian Bay: a survey of littoral recreation, 35mm, 6min, 2010.
Sea Series #8 Landfall at Lilliput, 35mm, 4min, 2010.
Gun/Play, 35mm, 8:45min, 2006.
The Sounding Lines are Obsolete, 16mm, 10min 2009.
Sea Series #6 Landfall at Métis-sur-Mer, 35mm, 4min, 2010.
John Price is a Toronto-based Canadian independent filmmaker who has been making experimental documentaries, dance, and diary films since 1986. He has also created film projections for opera and dance, and is active as a cinematographer, working with such directors as Bruce Macdonald, Peter Lynch, Annette Mangaard, and Mike Hoolboom, among others. 
Pages