Programmed by Amy Kazymerchyk

"Its beauty is quite ineffable. It's the sort of visual experience that transforms everything seen by the viewer for several hours afterward ... What it actually does is capture the subconscious of the city itself, the dream state of the whole past existing in simultaneous disarray." 
LUC SANTE, LOW LIFE AND EVIDENCE
Following DIM's presentation of his feature-length Benjamin Smoke in March, "New York" highlights Jem Cohen's 20-year practice of picturing New York City. Cohen constructs his city portraits as a witness and collector, compiling film reels and audio recordings that develop into compositions over time. Cohen focuses his camera on the liminal spaces of the city and the people who live and work on the margins. In Lost Book Found Cohen reflects, "I became invisible, and then I began to see things that had once been invisible to me." 
"New York" begins with Cohen's 1988 film, This is a History of New York, which borrows the narrative of monumental epochs to frame fragments of industrial decay and vagrant life along the Hudson River. A decade later,  Lost Book Found (1996) follows listings of places, objects, and incidents from a found notebook to decode the city's confessions. Little Flags (2000) and NYC Weights and Measures (2006) straddle 9/11, portraying the aura of publicness and pride in the financial district, before and after the event. In Long For the City (2008) Cohen pictures New York through Patti Smith's reflections on her forty-year history under its sky. Cohen's most recent production, a series of nine newsreels from Occupy Wall Street affirms his practice as flaneur and verite historian.
PROGRAM
This is a History of New York. 
1988, 16mm, 23mins.
Lost Book Found. 1996, 16mm, 37 mins. 

Little Flags. 2000, 16mm, 6mins.
NYC Weights and Measures. 2006, 16mm, 6mins.

Long for the City. 2008, 16mm, 10 mins.
Night Scene New York. 2009, 16mm, 10mins.
Gravity Hill Newsreels: Occupy Wall Street #03. 2011, HD, 5mins.
Programmed by Amy Kazymerchyk
Recently preserved by the Museum of Modern Art and The Pace Gallery in New York, Gabriel is the only completed film by the painter Agnes Martin (1912-2004), a leading figure in American abstract art. (Martin was born in Saskatchewan and raised in Vancouver). "Gabriel [is] a historically unique work that both illuminates and complicates our understanding of the artist and her paintings. 'My movie is about happiness, innocence, and beauty,' Martin observed. 'It's about this little boy who climbs a mountain and all the beautiful things he sees.' To those familiar with the luminous, tactile, exacting geometries of her paintings, Gabriel's elusive style and structure may come as a surprise: the lack of logical continuity; the point of view that shifts between that of the boy and an unseen observer; the handheld camera that is rarely at rest, but instead feels its way across the landscape, meandering and contemplating. Whatever tension exists in Gabriel comes from transition, variation, and difference: between shore and land, snow and desert, silence and Bach, solidity and movement, abstraction and nature" (MOMA). 78 mins, 1976, Colour, 16mm transferred to DVD, USA.  Courtesy of The Pace Gallery.
"Agnes Martin was born in Macklin, Saskatchewan in 1912 and grew up in Vancouver. She moved to the USA in 1932, taking American citizenship in 1940. Martin held her first one-woman exhibition at the Betty Parsons Gallery in New York in 1958. She constructed her paintings on a rational grid system, superimposing a network of pencilled lines and later coloured bands on fine-grained canvas stained with washes of colour. These paintings were influential on the development of Minimalism in the USA, although Martin regarded her use of grids as a development from the 'all-over' compositional methods of Abstract Expressionism. She persistently rejected the suggestion that her paintings were conceived in response to the landscape of New Mexico, where she settled again in 1967 and where she chose to work most of her life" (Oxford University Press).
Programmed by Amy Kazymerchyk
Lit by the glow of a bubbling fish tank diffused by a taffeta shawl, Benjamin Smoke lounges on a stack of pillows and asks, "What happens when you make music that gets you off like drugs, sex, or god? You tell me— what is it about having a great orgasm that's so good...?" Benjamin (1960-1999) was a member of Atlanta's underground and experimental music scenes in the 1980s, including the Opal Foxx Quartet. His yearning to write original music lead to the formation of Smoke, a band admired by the likes of Michael Stipe, Chan Marshall, and Patti Smith (who appears in the film). For 10 years, filmmakers Jem Cohen and Peter Sillen filmed Benjamin at his home in Atlanta's Cabbagetown neighbourhood, opening a window onto his life with drugs, music, AIDS, queer drag, and his mother. Benjamin Smoke explores the life of a true American rebel in a little known, rapidly disappearing pocket of the U.S. South. "In the straw coloured light, in light rapidly changing, on a life rapidly fading; have you seen death singing, have you seen death singing, have you seen death singing?" (Patti Smith). "A haunting portrait of a lyricist-singer who is the very embodiment of the famous observation that burning the candle at both ends produces such a lovely light" (Kevin Thomas, Los Angeles Times). 72 mins, 16mm, B&W and colour, 2000, USA
With: Benjamin Smoke, Patti Smith, Tim Campion, Brian Halloran, Coleman Lewis, Bill Taft
Programmed by Laura U. Marks
This year the Damascus-based Syrian documentary festival DOX BOX has decided not to hold the festival or seek government permits, as a statement against the regime. Instead, Dox Box is circulating films on "DOX BOX Global Day," to engage audiences worldwide with the complex situation in Syria. This program includes rarely seen masterpieces such as Omar Amiralay's A Flood in Baath Country, Nidal Al Dibs's Black Stone, and Oussama Mohamed's Step by Step, as well as works by emerging filmmakers. While world attention is on Syria, these films helps audiences share the experiences of Syrian people and learn about the country's political, economic and social climates over recent decades. They also express the critical and creative agency of Syrian filmmakers through each film's particular style and sensibility, poetic or acerbic, sharp or tender. These are not only political and social witnesses but rare works of cinema.
PROGRAM
March 14, 7pm, SFU Mowafaghian World Art Centre
Meyar al Roumi, Six Ordinary Stories. 2007, 61min.
Reem Ali, Foam. 2006, 48min.
March 15, SFU Room 4955
6pm Omar Amiralay, Daily Life of a Syrian Village. 1974, 85min.
8pm Oussama Mohammed, Step by Step. 1978, 22min.
        Rami Farah, Silence. 2006, 37min.
March 16, 7pm, SFU, Mowafaghian Cinema
Omar Amiralay, A Flood in Baath Country. 2003, 46min.
Nidal al Dibs, Black Stone. 2006, 62min.
Supported by: School for the Contemporary Arts, Simon Fraser University Centre for the Comparative Study of Muslim Societies and Cultures, SFU Wild Rice, DIM Cinema, Doxa Documentary Film Festival and Reel Causes.
Programmed by Amy Kazymerchyk
The gestures in John Price's films — a hazy body in the throes of a ragged dance, a child nestled in a blanket on a beach rock, or a woman in a brown trench coat and high heals tweaking out — are not for us. They have no message, no promise, and no delivery. They are the impressions of a man watching his life closely and intuitively; following each moment with a flickering shutter. Alone in the darkroom with cheap expired reels and industry tail ends, Price mixes chance with chemistry to work out the tones, tints, and grain. The images may fall off altogether, but he doesn't care. The intimacy of the alchemical process will remain and he will remember it. The films presented in "Film Diary" touch central themes in Price's archive: The City, The Family and The Sea. After Eden (2000) and Nine + 20 (2001)  are part urban ethnography and part excavation: the journey of a traveler in search of faith amidst a landscape of concrete and lost souls. Ten Thousand Dreams (2004) marks the birth of Price's first child and his shift to witnessing the the city and the landscape through his children's eyes. Selections from his Sea Series #1- 10 (2008-2011) map Price's children locating their footing along the shores, spits, and bays of the Great Lakes chain.
PROGRAM
Nine+20, 16mm, 10min, 2001.
After Eden, 16mm, 30min, 2000.
Ten Thousand Dreams, 35mm,  6min, 2004.
Sea Series #5 Georgian Bay: a survey of littoral recreation, 35mm, 6min, 2010.
Sea Series #8 Landfall at Lilliput, 35mm, 4min, 2010.
Gun/Play, 35mm, 8:45min, 2006.
The Sounding Lines are Obsolete, 16mm, 10min 2009.
Sea Series #6 Landfall at Métis-sur-Mer, 35mm, 4min, 2010.
John Price is a Toronto-based Canadian independent filmmaker who has been making experimental documentaries, dance, and diary films since 1986. He has also created film projections for opera and dance, and is active as a cinematographer, working with such directors as Bruce Macdonald, Peter Lynch, Annette Mangaard, and Mike Hoolboom, among others. 
Programmed by Amy Kazymerchyk
Filmmaker and curator Jonas Mekas (b.1922), one of the central figures in American avant-garde cinema, and his brother Adolfas (1925-2011), who would also become a filmmaker, fled their native Lithuania in 1944 due to the war. On route to Vienna, they were detained in a labour camp in Elmshorn, near Hamburg; eight months later they escaped and hid on a farm near the Danish border until the end of the war. They then lived in a series of displaced persons camps in Germany. In 1949, the brothers arrived in America and began their prolific film practices. For Jonas, these would be driven by a desire to hold on to fragments of his life as he passed through it and it passed through him. His film diaries flutter with single frames and short gestural sequences of gatherings, landscapes, family, and friends — what he calls little moments of paradise. He considers this yearning to be the fate of displaced persons, whose every living moment contains a past they are afraid they can never return to. Reminiscences is structured in three parts, recounting the Mekas' early days among Lithuanian immigrants in Brooklyn (1950-1953); their homecoming, after 27 years, to the village of Semeniskiai in Lithuania (1971); and their journey to Elmshorn, where they were interned, and then to Vienna, where they spend time with close friends Peter Kubelka, Hermann Nitsch, Annette Michelson, and Ken Jacobs. Reminiscences does not picture Lithuania as it was in 1971. Rather, it was shot through the eyes of a displaced person who has returned looking for the paradise of his memory. Color, 16mm, 82mins.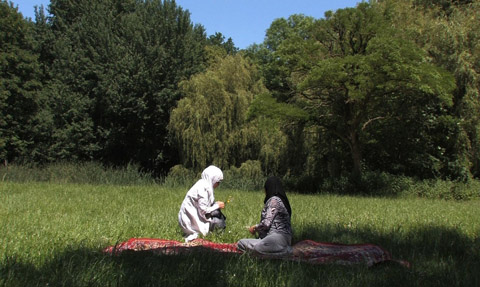 Programmed by Pascale Cassagnau (in attendance)
The works in "L'Histoire, toutes les histoires" exemplify interactions between contemporary art and documentary practices that are particularly fecund. These artists employ working processes with empirical data (documents) and marks of historicity (archives) that are both critical and ambiguous. In Les Gardiens, Florence Lazar employs the simple discursive act of transplanting a private object—a domestic rug—to a public space—a garden in the Paris suburbs. This symbolic act of "making visible" extends to the conversation between two veiled women, sitting face to face on the rug, about civic concerns. Lazar displays an astute concern for aesthetic formulas within painting and for the gaze of the viewer within pictorial and cinematic histories.
Expectations of universality and wholeness have been irrelevant in contemporary works of art and cinema for a long time. They gave way to subjective and inter-subjective appropriations of history and storytelling. Within the conditions of this new historicity, documenting could be defined as a practice of both re-claiming and dissolving the relationship of one's own biography within micro- and meta-narratives. This re-claiming is evidenced in Anya, the second part of Bouchra Khalili's ongoing series "Straight Stories." Anya explores the story of an Iraqi refugee who, since 1996, has been waiting at the Straight of Istanbul—a temporary stop for migrants in transit—for a visa to Australia. By fragmenting diaristic, confessional, and surveillance strategies, Khalili makes physical and psychic geography indistinguishable.
PROGRAM
Valérie Jouve, Grand littoral. 2003, 35mm, 20mins, France.
Bouchra Khalili, Anya, Straight Stories Part 2. 2008, DV, 12mins, France-Turkey.
Florence Lazar, Les Gardiens. 2009, 16mins, France.
Marylène Négro, X+. 2010, DV, 68mins, France.
Pascale Cassagnau has a PhD in Art History and works as an art critic. She is in charge of audiovisual and new media content at France's Centre National des Arts Plastiques (CNAP), the public institution responsible for contemporary art under the French Ministry of Culture and Communications (www.cnap.fr). She is a frequent contributor to Art Press. Her research focuses on new practices in cinema, especially the ways they interact with contemporary artistic creation.
This program is generously supported by the Consulate General of France in Vancouver, Institut Français, and Centre National des Arts Plastiques — French National Centre for the Visual Arts (CNAP)
Image: Les Gardiens, Florence Lazar 2009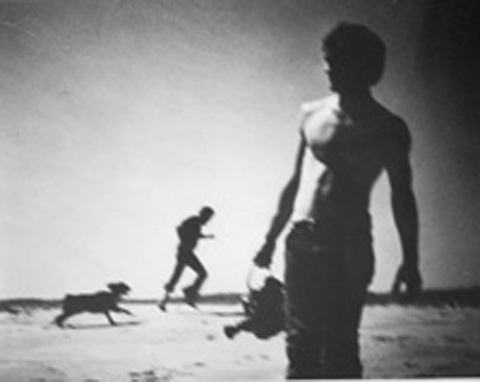 Programmed by Brett Kashmere (in attendance)
A unique but overlooked confluence in Canadian film history, the "Escarpment School" outlines a loosely knit band of Ontario-based filmmakers that came of age in the late-1970s. Its affiliates include the celebrated experimental filmmakers Philip Hoffman, Mike Hoolboom, Richard Kerr, Carl Brown, Gary Popovich and Steve Sanguedolce, who studied together at Sheridan College, under the tutelage of Rick Hancox and Jeffrey Paull. Over the past thirty years, the Escarpment School cineastes have helped to inaugurate Canada's first-person cinema; reinvented documentary as a mode for self-expression and formal exploration; extended and deepened the rich landscape tradition in Canadian art; and inspired the next generation of filmmakers through their work and their teaching.

Although varied in tone and texture, the films in this program share numerous qualities, including an attention to geography, a drive to record reality, the filtering of documentary material through individual experience, the looming presence of America, and a process-based, formalist approach to nonfiction. These characteristics in turn reflect the twin impact of the New American Cinema and its conterminous postwar movements, especially Beat literature, as well as the Canadian social documentary tradition, which were often viewed side-by-side in the "Escarpment School" classroom.
PROGRAM
George Semsel, Landscape. 1977, 16mm, 3mins, USA.
Lorne Marin, Trains of Thought. 1983, 16mm, 10mins, Canada.
Richard Hancox, Beach Events. 1984, 16mm, 8mins, Canada.

Philip Hoffman, The Road Ended at the Beach. 1983, 16mm, 30mins, Canada.
Richard Kerr, His Romantic Movement. 1984, 16mm, 15mins, Canada.
Philip Hoffman, Somewhere Between Jalostotitlan and Encarnacion. 1983, 16mm, 6mins, Canada.
Mike Hoolboom and Steve Sanguedolce, Mexico. 1992, 16mm, 35mins, Canada.
The films in this program are distributed by the Canadian Filmmakers Distribution Centre.
This program is the first in a four screening series originally curated for the Winnipeg Cinematheque. www.brettkashmere.com/escarpment.html
image: The Road Ended at the Beach by Philip Hoffman (1983)
Programmed by Amy Kazymerchyk
A 16mm film conceived in the format of a TV play and set in a seniors' care home. Part documentary, part fiction, the script for the film was a collaboration with writer and critic George Clark and was constructed from verbatim transcripts of a discussion group held over a period of five months with the residents of four care homes in Camden, London. Taking B. S. Johnson's 1971 experimental novel House Mother Normal as its formal departure point and employing the structural logic of a musical score, the script is edited into a vertical structure, in which eight voices or eight monologues occur simultaneously. The Future's Getting Old Like The Rest of Us features actors Roger Booth, Corinne Skinner Carter, Janet Henfrey, Ram John Holder, Anne Firbank, John Tilbury, Jane Wood, and William Hoyland; the latter starred in B. S. Johnson's films You're Human Like the Rest of Them (1967) and Paradigm (1969). Commissioned by the Serpentine Gallery, London, as part of the Skills Exchange project, in which artists swap skills and develop ideas for social and architectural change with the elderly, care workers, and young people (adapted from LUX, London). Colour, 16mm to HD. 48 mins.
Beatrice Gibson (b. 1978) is an artist based in London. Investigating ideas around voice, speech, collective production, and the problems of representation, her films deploy notation and conversation as paradigms for their production. Gibson's film A Necessary Music, made in collaboration with composer Alex Waterman, won the Tiger Award for best short at the Rotterdam Film Festival in 2009. Her recent solo exhibitions include "The Tiger's Mind," presented at Künsterlhaus Stuttgart in 2010. She is currently working on a new publishing project with editor and typographer Will Holder.
Distributed by LUX artists moving images.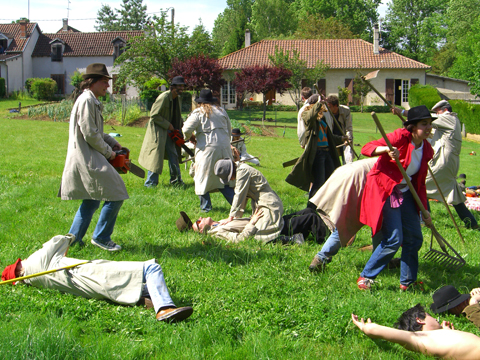 Programmed by Marie-Hélène Tessier
Nicolas Boone in attendance
Nicolas Boone is (b. 1974) is a visual artist based in Paris. He graduated from École Nationale Supérieure des Beaux-Arts de Paris in 2001. His earlier work used the language of filmmaking to produce ephemeral performances without film stock. Eventually, his meticulously improvised "parades" were recorded and edited into film loops to create a living discourse around the death of cinema. La Transhumance Fantastique (2006) recycles the codes of fantastic and horror cinema while a tracking shot along train rails leads nowhere — or towards a Western, a conquest, an exodus towards utopia, a future determined by someone else. As in all of Boone's films, the central character is a crowd of extras forming a compact corpus and obeying simple instructions commanded by a megaphone: the shout of the director-dictator, the authority of the absurd, the conductor of non-sense. Boone's moving mises-en-scène emerge from improvisations in which chaos invites chance and accidents do happen. Transbup (2009) is a more traditional narrative that emerged after a massive anti-ad campaign made up of nine shorts (BUP - La série). Transbup exposes the different faces of the media's totalitarian invasion of our individual freedom. Boone points fingers at all institutions and their perverse mechanisms. Here, the characters are looking for an escape from a world Boone holds in disgust.
Transbup. 2009, Colour, DV. 50mins, France.
La Transhumance Fantastique. 2006, Colour, DV. 55mins, France.
Programmed in parallel with the exhibition LIQUIDATION and the production of Nothing Happening at VIVO Media Arts Centre. Co-presented with the LIVE International Performance Art Biennale and Swarm Festival of Artist Run Culture. LIQUIDATION and Nothing Happening are produced with the generous support of the Consulat général de France à Vancouver.
image: La Transhumance Fantastique (2006)
Pages