"His work is unashamedly polemical, but the polemic is in favour of the proposition that the same discontinuities, paradoxes and breakdowns in communication that are at issue in cinema are also at work in our mediated lives" - Will Bradley
Programmed by Amy Kazymerchyk
Luke Fowler was introduced to Scottish psychiatrist, R.D. Laing's Kingsley Hall experiment (1965-1970) while he was working on his own series of social and psychological experiments called The Social Engineer (1999). Fowler's interest in Laing's practice, and the documentation of Kingsley Hall, evolved into the film What You See Is Where You're At (2001). Laing's hypotheses on the "double bind", the family nexus, and ontological security in books such as The Divided Self (1960) and The Politics of Experience (1967) shaped Fowler's own concerns with family, community, and collaborative formation; self and social representation and perception; and truth and authority. Fowler takes formal influence on these matters from structuralist film, the Situationists, the Free Cinema Movement, and free improvisation. All of these elements fold into Fowler's poly-rhythmic compositions of sound and images — formal experiments, in tune with divided selves.
The Way Out profiles Xentos "Fray Bentos" Jones, one of the founding members of the post-punk band The Homosexuals. Pilgrimage from Scattered Points reflects on the English composer Cornelius Cardew (1936-1981) and The Scratch Orchestra (1968-73). Bogman Palmjaguar is a portrait of man who takes refuge in Scotland's remote bog lands, as his only asylum against medical incarceration. All Divided Selves is an expanded collage of R.D. Laing's life and practice.
PROGRAM
6:30pm
The Way Out. 2003, Colour, video, 33 mins.  Co-director: Kosten Koper.
Pilgrimage from Scattered Points. 2006, Colour, video, 45mins.
Bogman Palmjaguar. 2007, Colour, video, 30mins.
8:30pm
All Divided Selves. 2011, Colour, video, 90mins.
Luke Fowler (b. 1978) is an artist, filmmaker, and musician based in Glasgow. He has performed with experimental groups Lied Music and Rude Pravo, and runs the independent label SHADAZZ. Fowler was awarded the inaugural Derek Jarman Award in 2008.. In 2012, he was shortlisted for the Turner Prize for his solo exhibition at Inverleith House in Edinburgh, which showcased All Divided Selves (2011).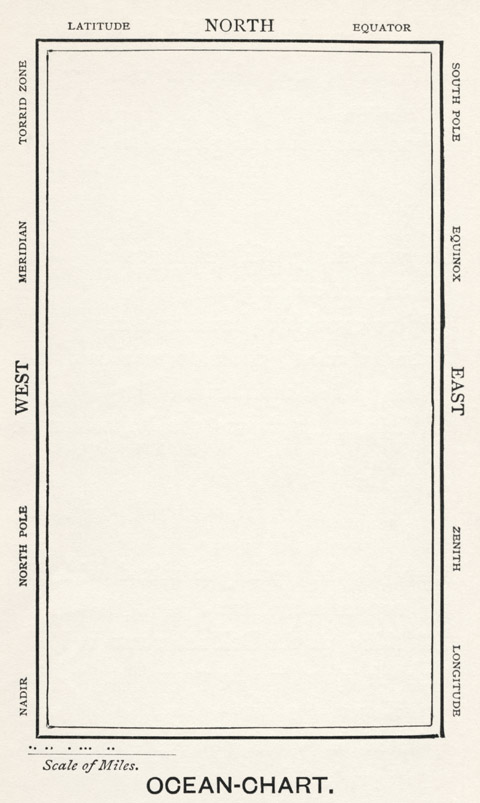 Programmed by Yann Chateigné Tytelman
The Mirage of History presents a series of artists' practices that share a documentary approach to explorations of the spatio-temporal unknown. The point of departure is a visionary film made by Nancy Holt and Robert Smithson in 1968, in which Smithson walks with Michael Heizer through the captivating scenery of Mono Lake in California, reading excerpts from geological textbooks as invocations of an "archaeology of the future." In a similar way, Armando Andrade Tudela films the Marcahuasi plateau in Peru: his gaze lingers on this landscape, a place resounding with manifold stories and representations, as though it holds traces of a "cosmic antiquity". In their attempt to locate the "islands of history" (Marshall Sahlins), these artists seek out spaces of reinvention and permanent revolution that contravene the conditions of possibility for history itself. Joachim Koester documents the remains of Aleister Crowley's Thélèma Abbey, where filmmaker Kenneth Anger and the sexologist Alfred C. Kinsey once met. Michael Stevenson retells the story of Manfred Gnädinger, alias Man—a modern Robinson Crusoe whose life was destroyed by the ecological disaster of the Prestige oil tanker spill in 2002. And Mariana Castillo Deball recounts the story of a female scientist from CERN in Geneva, interspersed with images of gems from the collection of the French writer Roger Callois.
PROGRAM
Armando Andrade Tudela, Marcahuasi. 2009, 11mins, Peru/Germany.
Mariana Castillo Deball, Entropology. 2009, 8mins, Mexico.
Dominique Gonzalez-Foerster, Atomic Park. 2003, 8mins. France.
Daniel Gustav Cramer, Orrery. 2012, 20mins, Germany.
Nancy Holt, Robert Smithson, Mono Lake. 1968-2004, 20mins, USA.
Joachim Koester, Morning of the Magicians. 2005,  5mins, Denmark.
Uriel Orlow, Holy Precursor. 2011, 14mins, Switzerland-Great Britain.
Michael Stevenson, On How Things Behave. 2010, 16mins, New Zealand-Germany.
Yann Chateigné Tytelman (b. 1977) is a critic and curator. He currently serves as Dean of the Visual Arts Department at Geneva University of Art and Design in Switzerland. He was previously the Chief Curator at CAPC Museum of Contemporary Art in Bordeaux. His recent projects include Seismology (Palais de Tokyo, Paris, 2012), The Curtain of Dreams: Hypnagogic Visions (IAC Villeurbanne, 2011-12), and Explorations in French Psychedelia (CAPC Museum of Contemporary Art, Bordeaux, 2008-09).
Presented in collaboration with Geneva University of Art and Design, and the Western Front.
+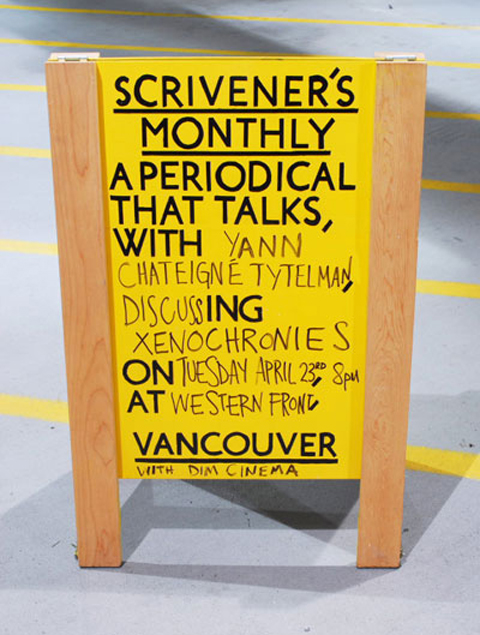 Scrivener's Monthly is pleased to present Yann Chateigné Tytelman discussing Xenochronies on Tuesday April 23rd at 8pm in the Grand Luxe Hall at the Western Front.

Xenochrony, a word that derives from the Greek xenos, strange or alien, and chronos, time, is a studio-based musical technique developed in the early 1960s by composer Frank Zappa. Xenochrony is executed by extracting a guitar solo or other musical part from its original context and placing it into a completely different song. "The musical result", says Zappa, "is the one of two musicians, who were never in the same room at the same time, playing at two different rates in two different moods for two different purposes, when blended together, yielding a third result which is musical and synchronizes in a strange way". Starting from here, we will explore a series of artists works who, luminously, use similar techniques of montage and adventurous dislocation to produce a specific form of knowledge. To be evoked: the writing of history "in between science and fiction", fables, "adventurous coherences" and documentary fictions, dust breeding, fictocriticism and "the dispersed science".

Scrivener's Monthly is a series of public presentations that explore the space between material practices and spoken words: a periodical that talks. Set alongside the exhibitions program at Western Front, this experiment in "not publishing" involves readings, performances, and other articulations.
Programmed by Eli Bornowsky
There is an operation in certain works of art where the hierarchy of the composition is unclear, offering the viewer the agency to compose her interpretation of the work experientially. We could call this operation something like subjective-manoeuvring. Ultimately it is the experience of freedom. I first experienced this through listening to music; however, because the operation is formal and perceptual, it is not medium specific. It also operates in great films, from Tarkovsky to Tati. It also informs my practice as a painter.
With this in mind, Clamour and Toll contrasts the austerity of James Benning's Twenty Cigarettes with the cacophony of Michael Snow's New York Eye and Ear Control. It may seem unusual to contrast free jazz bohemianism in New York with straight prairie portraits, but the contrast in content and context illustrates one strategy to facilitate subjective-manoeuvring that I prize: discord.
I admire these two artists and these rigorous films because they present a challenge: they are difficult to watch. But this difficulty only presents a challenge to how we think about looking. For if we really look, the freedom we experience far surpasses the discomfort.
PROGRAM
James Benning, Twenty Cigarettes. 2011, HD, 99mins, USA.
Michael Snow, New York Eye and Ear Control. 1964, 16mm, 34mins, Canada.
---
Clamour and Toll is an ongoing series of performance, sound art, and moving images curated by the painter Eli Bornowsky for the Or Gallery. Each event explores the relation between sensation and intellection of contrasting artistic mediums and experimental practices. www.orgallery.org.
Clamour and Toll is generously funded by the Canada Council for the Arts.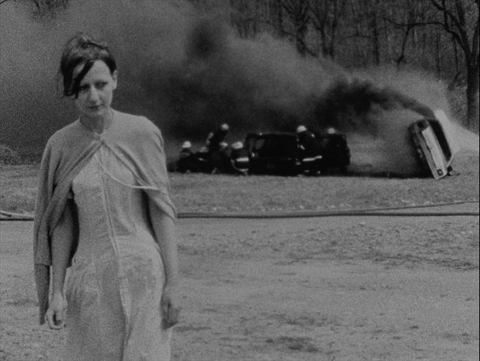 Programmed by Amy Kazymerchyk
7:30pm
You Are Not I. USA 1981. Director: Sara Driver
Cast: Suzanne Fletcher, Melody Schneider, Luc Sante, Nan Goldin

"One of the most impressive works to emerge from New York's post-punk downtown scene" (Film Society of Lincoln Center), Sara Driver's "lost" debut film, co-written and shot by Jim Jarmusch, is based on a 1948 short story of the same name by Paul Bowles (published in his Collected Stories 1939-1976). It is a haunting tale caught in the moment between waking and dreaming, told by Ethel, who escapes from an asylum in the aftermath of a train wreck. Ethel proclaims to an emergency responder that her sister is one of the dead; as she is transported to her sister's home, time fractures and the narrative "I" disassociates. Did the train wreck precipitate Ethel's commitment to the asylum or her escape? Did Ethel's sister die in the wreck, or is it a symbolic killing of the sister who committed her? Jarmusch and camera assistant Tom DiCillo soon after collaborated on Stranger Than Paradise, another black-and-white NY indie touchstone. Driver's film was touted by Cahiers du cinéma as one of the best films of the decade, but its negative was destroyed in a fire shortly its release and film was unseen for 30 years. In 2008, a print was discovered in Tangiers amongst Bowles's belongings, and the film was restored. B&W, 16mm transferred to HD. 50 mins.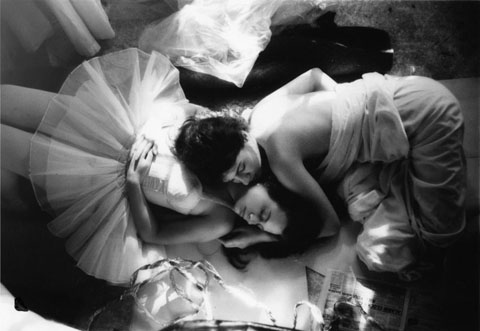 8:45pm
Cat Swallows Parakeet and Speaks! Canada 1996. Director: Ileana Pietrobruno
Cast: Tara Frederick, Rebecca Godin, Alex Ferguson, Christine Taylor, Rachel Cronin

Vancouver filmmaker Ileana Pietrobruno's Cat Swallows Parakeet follows the progress of Scheherazade and Kore, two hospitalized young women who take up storytelling as a means of survival. Inspired by headlines in tabloid magazines, the young women enact an endless narrative, reminiscent of One Thousand and One Nights (aka Arabian Nights), to fend off death: for Scheherazade, at the hands of the doctor's knife, and for Kore, the self-annihilation of an eating disorder. Pietrobruno depended heavily on the art direction of Bo Myers and Athena Wong to bring this visually-stunning film — about life in death and death in life— to life in the abandoned Riverview Hospital in Coquitlam. The film, says Pietrobruno, is "about celebrating entropy, decay and death, and gaining strength through problems and ugliness." "One of the most drop-dead gorgeous movies ever made in Vancouver ... A dizzyingly ambitious experimental drama ... The apocalyptic production design is breathtaking ... Pietrobruno is a talented filmmaker of decidedly distinctive vision" (Jim Sinclair, The Cinematheque). Colour and B&W, 16mm. 75 mins.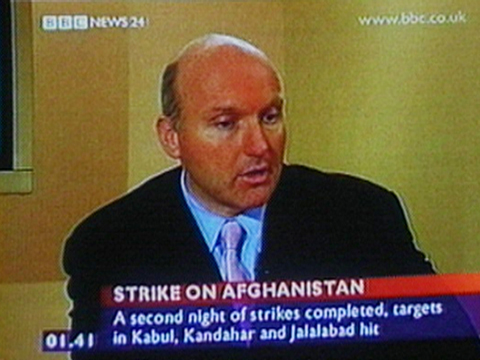 Programmed by UBC AHVA Graduate Students
We perform our daily routines in environments, virtual or real, that record and use our images, information, and biographic details in diverse ways. Aware that surveillance cameras and tracking systems are pervasive, we habitually filter out their presence regardless. Our ability to tolerate and even flaunt this omnidirectional, surveillant gaze relies on assumptions about the frequency and banality of surveillance activity. As society moves towards a structure that is fully regulated, tracked, and documented, the volumes of image-data required are furiously expanding, filling up ever-accumulating archives that paradoxically function to erase as much as to preserve.
The artists in this program find ways to make this seemingly inadequate data speak, to locate the extraordinary within the trivial. In Christina Battle's short video, the CIA's legacy of spying and the mysterious secrecy of its archive visually erupts, only to reveal a paucity of information and the mundane labour of filing. John Smith likewise offers minimal yet pointed visual imagery while producing a personal narrative that navigates the increasing pressures of state surveillance accumulating outside the frame. And in her experimental documentary Rebecca Baron explores historical precedents for public surveillance through the twinned developments of lens-based camera technology and the mass observation movement. In each of the works, the technologies of surveillance reveal themselves at once as personally subjective, authoritatively powerful, and determined by multiple, unknowable agents. – Stephen Wichuk and Jayne Wilkinson
PROGRAM
Christina Battle, Wandering Through Secret Storms. 2009, DV, 6 mins, Canada.
John Smith, Frozen War. 2002, DV, 13mins, UK.
John Smith, Dirty Pictures. 2002, DV, 14min, UK.
Rebecca Baron, How Little We Know of Our Neighbours. 2005, DV, 49mins, USA.
---
This program was curated by graduate students at the University of British Columbia in a seminar, led by John O'Brian of the Department of Art History, Visual Art, and Theory, titled "Surveillance, Voyeurism, Criminality, and Photography." Participants included Vikki Addona, Kate Henderson, Jeremy Jaud, Kyoung Yong Lee, Dana Loughlin, Vanessa Parent, Robin Simpson, Sofia Stalner, Shalini Vanan, Stephen Wichuk, and Jayne Wilkinson.
Videos courtesy of Video Data Bank and Canadian Filmmakers Distribution Centre. Image courtesy of Video Data Bank, Frozen War (2002) by John Smith.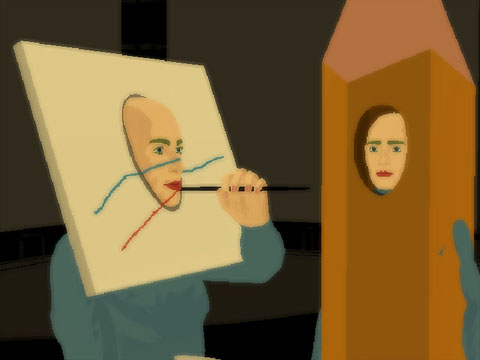 Programmed by Amy Kazymerchyk
Barry Doupé in attendance
In The Colors that Combine to Make White are Important, Vancouver animator Barry Doupé explores the power structure within a failing Japanese glass factory. Two parallel storylines — one involving the investigation of a suspect employee, the other a stolen painting — converge in an exposition on gender and desire. Doupé's computer-animated film has its characters rapidly evolve through three distinct acts, while subverting the dominant archetypes in the Japanese salaryman genre. The hierarchical relationship between boss and employees is undone to examine language, art, and expression. Doupé's characters are looking for something only to be found through a crisis of feeling, a shaking up of the human world. The film peeks into another, formerly invisible world, one which wants to know the meaning of the body, the meaning of attraction. Alluding to the office comedy 9 to 5 (1980), Yasujiro Ozu's staid, heartwarming Good Morning (1959), and Luchino Visconti's sexually-charged finale in Death in Venice (1971), Colors shifts between cultural reference points, flattening them out into a dialogue of desperate, over-reaching thoughts and searching inquiries about nature, love, mortality, and consciousness. Colour, computer animation SD video. 119mins.
Barry Doupé, born 1982 in Victoria, B.C., is a Vancouver-based artist primarily working with computer animation. He graduated from Emily Carr University in 2004 with a Bachelor of Media Arts majoring in animation. His films have been screened at various venues across Canada and around the world, including the Ann Arbor Film Festival, International Film Festival Rotterdam, Pleasure Dome (Toronto), MOCCA (Toronto), Whitechapel Gallery (London), and the Tate Modern (London).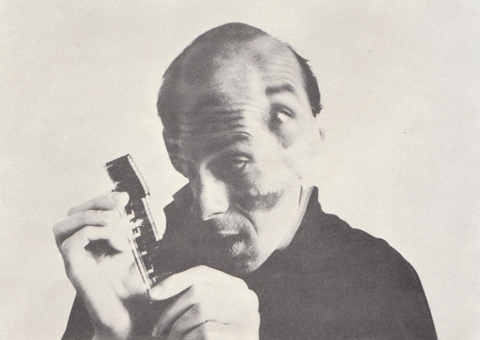 Programmed by Alex Muir
Byron Black in attendance
 "The ambiguous tale of a renegade space traveler who slips dimensions and crashes on Earth. Forced to engage in fierce psychic combat with warlike natives, the alien tells of his desperate attempts to escape certain planetary doom, in rapid-fire layer collage style." — Infinity Studio
Byron Black worked in film, video, photography, mail art, and performance during the decade he spent living in Vancouver. He was known as Baron Infinity when he hosted Vancouver's first art TV show, on community cable. In The Holy Assassin, his second feature-length film, shot from 1972-74, Black plays a marooned alien; other roles are filled by housemates, friends, and fellow artists. Working in a largely improvisatory context, Black's film portrait of Vancouver in the early '70s has a spontaneity that yields results at once utterly bewildering and surprisingly intimate. As Tony Reif writes in Vancouver Art and Artists, the film takes "post-hippie psychodrama to the point of cosmic absurdity." Shot handheld on 16mm, Black careens in and out of the frame as the film jump-cuts across eminently recognizable parts of town at breakneck pace. The Holy Assassin possesses a joie de vivre that is lodged somewhere between art happening and B-movie, and a kineticism that recalls the Soviet vanguard. Colour, 16mm. 65 mins.
---
Programmed in parallel with Anamnesia: Unforgetting, a series of curatorial projects from VIVO Media Arts Centre's Crista Dahl Media Library and Archive. What's a sentient being like you doing in an incarnation like this?, a program of Byron Black's 1970s and 1980s videos, will screen on Thursday November 15, at 7:00 pm, at VIVO (www.vivomediaarts.com).
The Holy Assassin is held by The Cinematheque's West Coast Film Archive.
Programmed by Amy Kazymerchyk
Chris Kraus in attendance
The novelist and critic Chris Kraus, author of I Love Dick (1997), Aliens and Anorexia (2000), Where Art Belongs (2011), and Summer of Hate (2012), has been called "one of our smartest and most original writers on contemporary art and culture" (Holland Cotter, New York Times). Before she wrote prose and criticism, Kraus made experimental films. Michael Snow's Wavelength (1967) introduced her to film's potential to sustain conceptual and dialectic complexity without defaulting to parody — a flaw she found in experimental performance. At the time she felt that theoretical language and philosophy resonated more in moving images and pictorial text than in poetry. Filmmaking became a form of pilgrimage for Kraus: an acute practice of following her compulsion for poetry, phenomenology, literature, nostalgia, and memory. Kraus makes her first laceration 'through nostalgia into the future' in In Order To Pass (1982), a film that features the printed text of philosopher-turned-gynaecologist Irene Crofton. The mythology of modernist icon Antonin Artaud, and the 1980s fascination with Artaud, emerges in the bodies of clones in Foolproof Illusion (1986). Georges Bataille and Henry James meet in the back of a cab in Golden Bowl or Repression (1984/88), noted by photographer Nan Goldin for its dissection of "romance, mystification and the inability to connect." How to Shoot a Crime (1986) is perhaps Kraus' most densely dialectic film, conflating police crime scene videos, gentrification at the Fulton Street Seaport, and pop sadomasochism.
PROGRAM
In Order to Pass. 1982, 30mins.
Voyage to Rodez. 1986, 14mins. Co-director: Sylvère Lotringer.
How to Shoot a Crime. 1986, 30mins. Co-director: Sylvère Lotringer. 
Foolproof Illusion. 1986, 18 mins.
The Golden Bowl or Repression. 1984/88, 14mins.
Terrorists in Love. 1983, 6mins.
Chris Kraus is a writer and art critic living in Los Angeles. She teaches writing at the European Graduate School (Switzerland) and is a co-editor of the journal Semiotext(e).
- - - 

Co-presented with "Scrivener's Monthly," a "series of public presentations that explore the space between material practices and spoken words: a periodical that talks," at Western Front. Chris Kraus will read from Summer of Hate (2012) on Friday, November 2, at 8:00 pm, at Western Front. On Monday, October 29, at 6:00 pm, she will speak about her book Where Art Belongs (2011) at the Emily Carr University of Art and Design, in the Lecture Theatre. Both events are free.
Programmed by Amy Kazymerchyk
"The Time We Killed portrays the inner life of a writer unable to leave her Brooklyn apartment on the brink of the U.S. invasion of Iraq. Robyn Taylor tries to kick her growing agoraphobia by re-imagining her past and contemplating world events of the present. As Robyn begins to overcome the amnesia that afflicted her as an adolescent, she fears coming down with 'the amnesia of the American people'... The talking cure of psychoanalysis is evoked as Robyn voices her personal history, fantasies, and observations with a wry sense of humor. As Robyn recounts her jump from a bridge, which left her with amnesia at the age of 17, she muses, 'The bridge wasn't high enough.' Recollections of her days in a mental institution seem to predetermine her present-day compulsion to lock herself indoors. And as Robyn becomes increasingly disconnected from the world, flashbacks of her childhood visit her for the first time. Finally, the horror of the U.S. military 'shock and awe' campaign brings to light the terrible cost of self-absorption and passivity, and shakes Robyn out of her self-made isolation". International Critics' Prize, Berlin (Forum of New Cinema), 2004. B&W, 16mm. 94mins, USA. 
Cast: Lisa Jarnot, Valeska Peschke, Rainer Dragon, Susan Arthur, Jennifer Reeves
Jennifer Reeves is a New York-based filmmaker who has been making experimental films since 1990. Her personal, subjective films employ optical-printing and direct-on-film techniques and explore, from many different angles, themes of memory, mental health and recovery, feminism and sexuality, landscape, wildlife, and politics.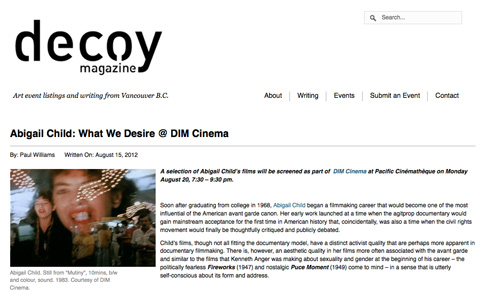 Abigail Child: What We Desire
By Paul Williams
http://decoymagazine.ca/abigail-child-what-we-desire/
Soon after graduating from college in 1968, Abigail Child began a filmmaking career that would become one of the most influential of the American avant garde canon. Her early work launched at a time when the agitprop documentary would gain mainstream acceptance for the first time in American history that, coincidentally, was also a time when the civil rights movement would finally be thoughtfully critiqued and publicly debated.
Child's films, though not all fitting the documentary model, have a distinct activist quality that are perhaps more apparent in documentary filmmaking. There is, however, an aesthetic quality in her films more often associated with the avant garde and similar to the films that Kenneth Anger was making about sexuality and gender at the beginning of his career – the politically fearless Fireworks (1947) and nostalgic Puce Moment (1949) come to mind – in a sense that is utterly self-conscious about its form and address.
Mutiny (1983) is, in a combative way,  full of fun and could be misread by some viewers who don't like to be put on the defensive. It is the second part of Child's Is This What You Were Born For? series about the experiences of women in New York City, and is comprised mostly of footage shot by Child – the dancer Sally Silvers, the violin player Polly Bradfield are all contemporary artists and friends, shot in 1981-83 on streets and offices in NYC. There is other material taken from early documentaries including the high school girls and Bronx street gang [for commissioned docs Between Times (PBS) and Savage Streets (NBC) respectively] as well as from her early doc Game (1972), shot with Jon Child. Using a 16mm camera that records on magnetic track, the film employs lightning fast editing to imitate and then deform modern representations of femininity at home, at work and in public. The active viewer who can see the pattern eventually realizes that these intercutting scenes depict many of the women in mid-cheer: chattering, singing, jumping on gymnastic apparatus, even dancing. Most are aware of the camera and some aren't, or at least aren't bothered by it. Conversations rise and fall; shots are fed through upside down and run in reverse, while one woman does an interpretive dance in the middle of a busy workday in an urban office, another drunkenly confides to us and to Abigail Child, and, in a way, to the other subjects in the film.  Not one scene is ever made clear; no utterance makes sense, a babbling crescendo. But it is in the film's kinetic nature, and in the true Eisensteinian sense of montage, that the meaning becomes apparent when all the disparate sequences are cut together, compared and seen as a whole. Ultimately, a general discontentment is sensed in the growing action with the same feel and style as Arthur Lipsett's classic Very Nice, Very Nice (1961).  But Lipsett was a lot more hip.
B/Side (1996) is more morose. The kinetic editing that underlines our understanding of Mutiny, here is deliberately paced at a speed better suited for attention to composition and character though with a similar sporadic rhythm. The film's centerpiece is a shantytown close to the heart of the city's financial centre that houses a small group of homeless men and women. Child has created a protagonist of sorts, played by New York actress Sheila Dabney. There is an insensate quality to her daily routine; we watch her sleep, wake, and wash – ironically evoking the sleepy, pastoral mornings of Humphrey Jenning's poetic, nationalist masterpiece London Can Take It  (1940) – before she begins her wanderings along Manhattan's Lower East Side. These are jarringly intercut with a love scene between Dabney and a young woman. Like a silent melodrama, her interior mindset – fantasies and all – are shot and presented for audience scrutiny. This blend of documentary and narrative address offers a complicated depiction of class, racial relations, economics and the sadness at the heart of the growing alienation of the homeless and working poor in contemporary America.
In the 21st century, her films to continue to investigate the everyday drama of contemporary America by looking into the past, primarily with found footage. She has become a sought after world-class installation artist, creating split-screen, didactic meta-narratives at galleries around the world.
The above reviewed films, along with The Game (1972), are part of the upcoming  Abigail Child presentation at DIM Cinema. DIM Cinema is a continuing series of avant garde works by important domestic and international filmmakers; the program is curated by Amy Kazymerchyk and screened monthly at the Pacific Cinémathèque in Vancouver, Canada.
Pages